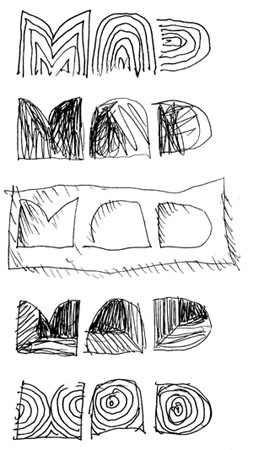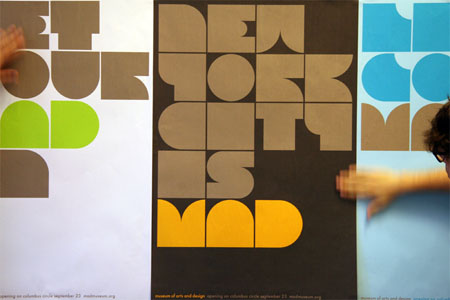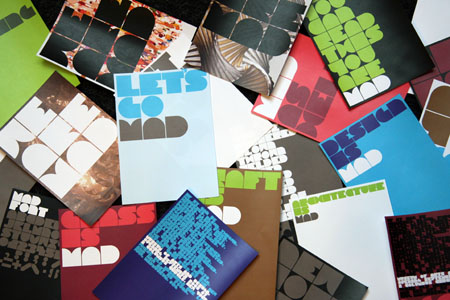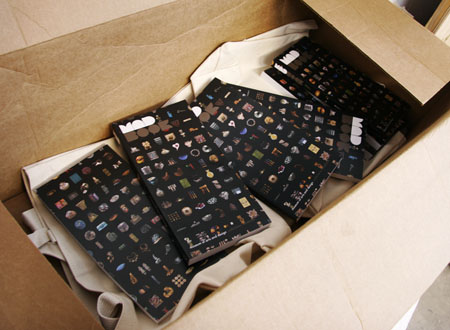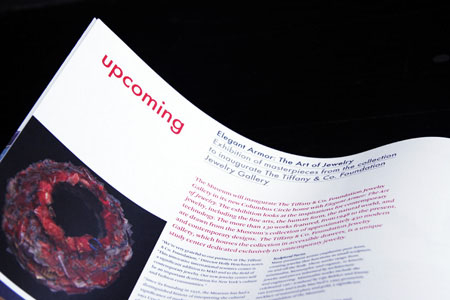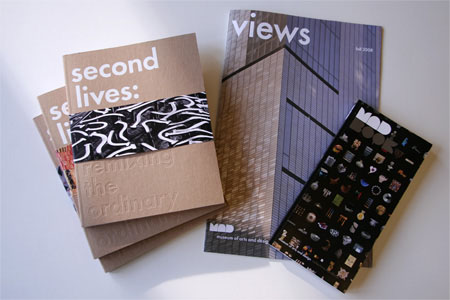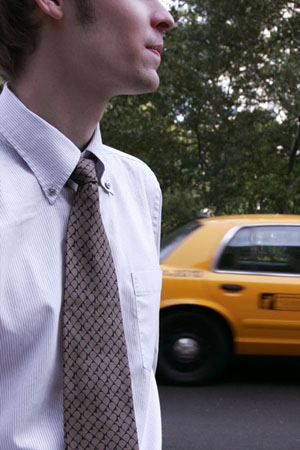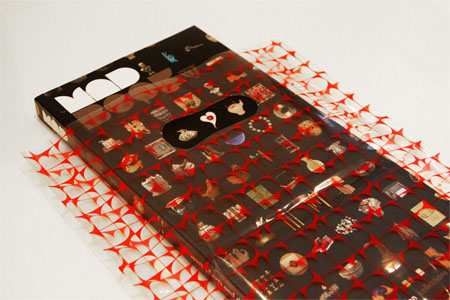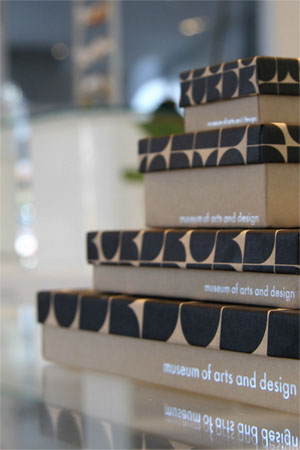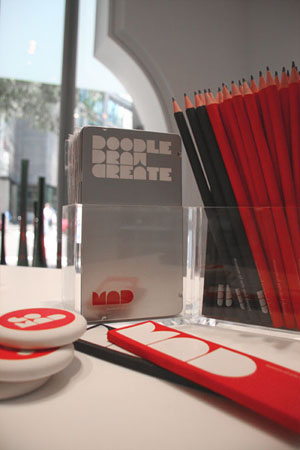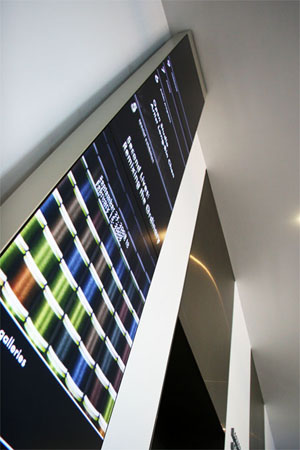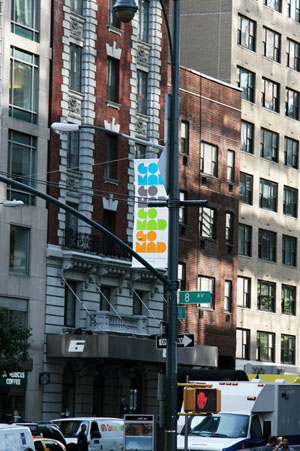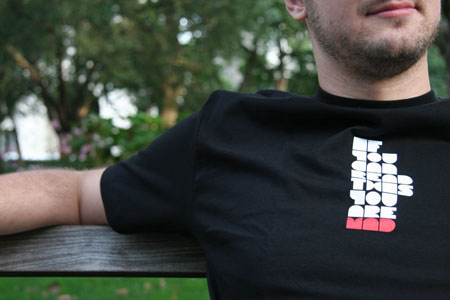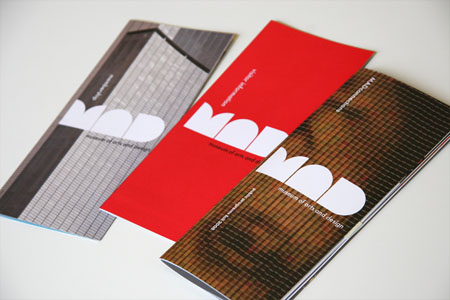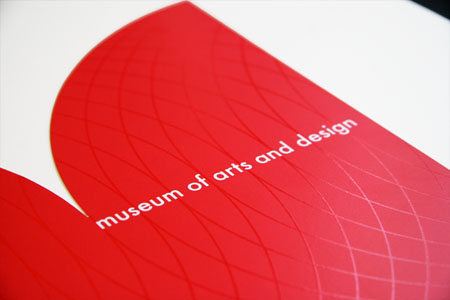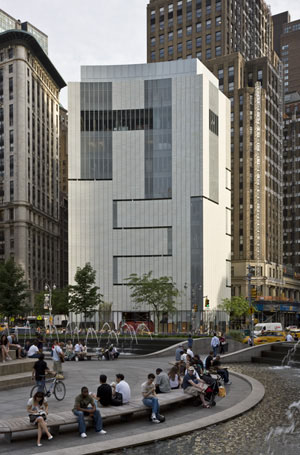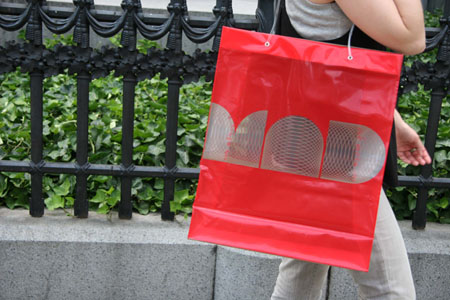 This weekend the Museum of Arts and Design opens the doors of its new home at 2 Columbus Circle following an extensive redesign of the building by Brad Cloepfil of Allied Works Architecture. The museum's new graphic identity can already be seen throughout the city, on the sides of buses, on street banners, in print ads and in the subways. The geometric-based mark reflects the circles and squares present in the building's shape; its location, on Columbus Circle; and the building's iconic "lollipop" columns retained in the redesign. After the jump Michael Bierut discusses creating a graphic identity for the one of New York's most anticipated reinventions.
Prior to 2002, the Museum of Arts and Design was called the American Craft Museum; it changed its name to accommodate the growing scope of its collection. Discussions of what is craft and what is art and design aside, the MAD acronym is a great asset. It's short, pronounceable and memorable. But it's also in some ways overly familiar. For example, there already is a well-known MAD logo, which appears on the cover of a magazine that I loved when I was twelve. So part of our design problem was to make it surprising, less familiar, and proprietary—to come up with a MAD that could only be the Museum.
We also wanted a way of writing the name that could embody the values of the Museum, something that seemed inventive and surprising, and that could appear in different ways on different occasions. The Museum, after all, is dedicated to artists who take typical forms—say, vessels, or chairs—and transform them over and over again. We hope that the simple forms of the new logo will permit just that kind of transformation.
We tried a lot of different things along the way, including changing the acronym altogether. At one point, we developed an interesting linear version that echoed the ingenious system of connected light slots that Cloepfil designed in the walls, floors and ceilings of the gallery spaces. In the end, we decided to start with MAD's fantastic location. It's a more or less square building that sits on the most prominent circle in Manhattan. By combining squares and circles, we came up with an alphabet that rendered a great MAD monogram. Some people who see it are reminded of Edward Durrell Stone's famous—or infamous—"lollipop" columns, which Brad and his team have retained as "ghosts" visible from outside the building.
We then designed an entire alphabet and numbers based on the basic MAD combination and again, made out of squares and circles. We call it MAD Face. It's fun but, as one can imagine, not the easiest thing to read. It doesn't work too well on fire exit signs, for instance. But it definitely reflects the inventive spirit of MAD, and we use it in the advertising campaign and on special occasions. A more conventional typeface, Futura, is used in print applications and signage. Like the logo, it is also based on geometry, with a perfectly round letter "o."
Lisa Strausfeld and her team have created a program of dynamic digital media for the Museum that includes animated totems that will serve as directories to the various floors of the Museum, screens facing the sidewalk that will let passersby know what's happening inside, and interpretive kiosks with interactive databases that will let you explore the collection. Pattern is a major element of the identity, as it is for the art, and Lisa's media presents shifting pattern of objects from the collection. We've co-opted this pattern for the cover of the museum catalogue, MAD Book.
Identity, Typeface, Collateral, Exhibition Catalogs, Products, and Advertising:
Michael Bierut and Joe Marianek
Signage, Wayfinding and Exhibition Graphics:
Michael Bierut, Rion Byrd-Gumus and Kai Salmela
Dynamic Media:
Lisa Strausfeld, Christian Marc Schmidt, Kate Wolf and Christian Swinehart
Identities, Signage, Recent Work, New York, Michael Bierut, Lisa Strausfeld, Typography
09 / 26 / 2008 | Permalink
http://courseworks.biz/

2012.07.26 15:20

In this museum people can present their work. Especially popular works of young artists with unusual style of their works.