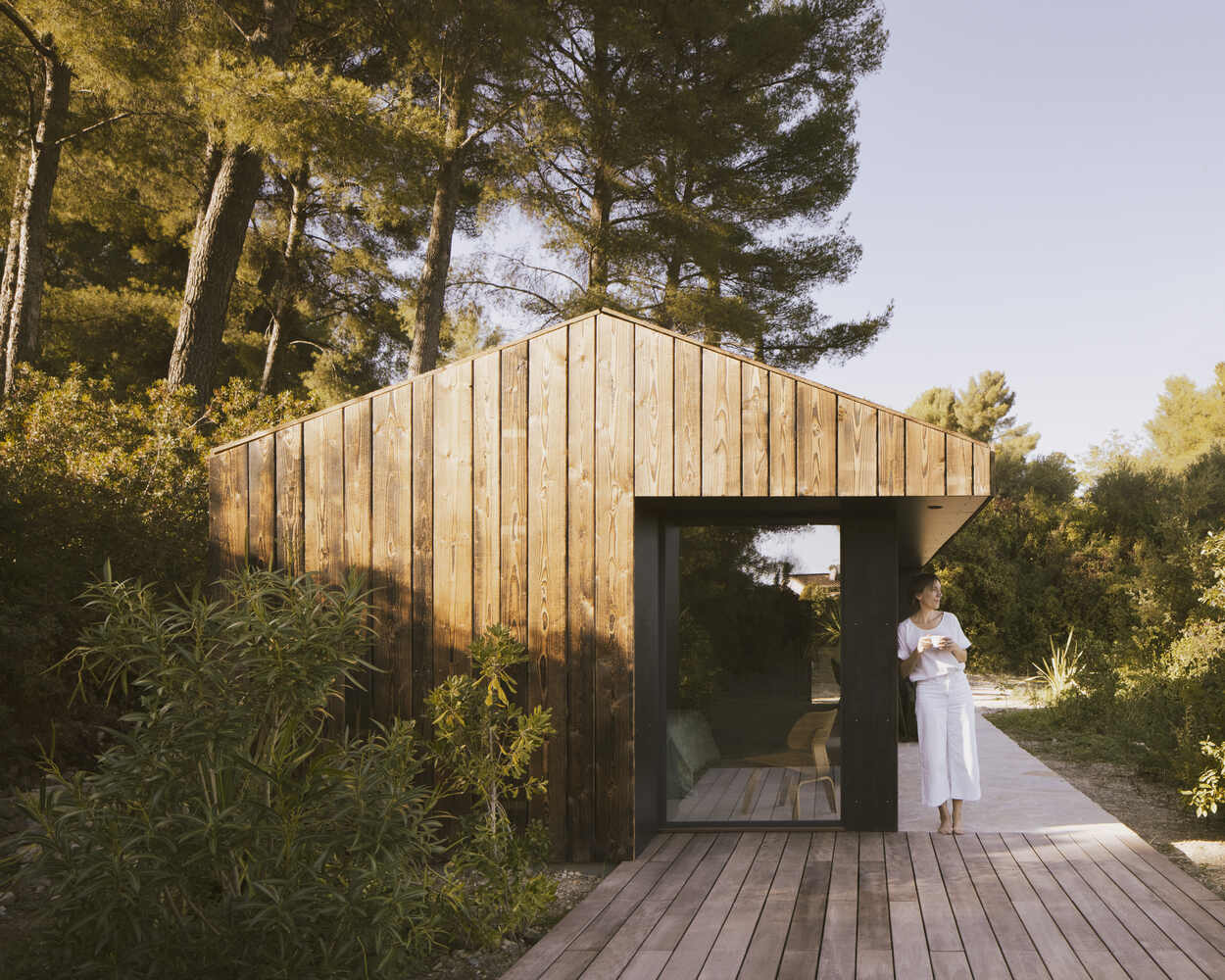 daab design-Pine Nut Cabin
절제된 럭셔리 : 파인 넛 캐빈
Pine Nut Cabane by daab design is a timber clad retreat hidden between a pine forest and olive grove in the South of France. Built in collaboration with French cabin company, Moustache Bois, daab design has elevated a simple eco retreat with quality materials and design interventions to create a serene space offering understated luxury. daab design conceived the cabin as a flexible guest studio or arts space for a multi-generational, international family, celebrating their clients' favourite location on the large rural property through the trinity of light, views and materials.

The form of the cabin takes cues from the regions' farming vernacular, and was clad in scorched pine to blend the new structure into the surrounding landscape. daab design introduced matte black door panels along the facade of the cabin to create a clear sense of entry and contemporary feeling throughout the new retreat.

The floorplan of Pine Nut Cabane has been designed as one space separated by a central bathroom pod, giving the family a flexible space to relax, practice yoga, sleep, or paint. The spaces can be closed off by full height, custom matte black doors to create two bedrooms during busy family gatherings. Inside, daab design has responded to the woodland context, choosing materials that add to the sense of calm and relaxation of the holiday locale. Matte black finishes and minimal plywood interiors offer visual respite from the intense summer sun and add depth to the spaces.

The bathroom features a cave like shower nook of light terracotta zellige tiles that stretch from floor to ceiling. The East orientation of the cabin maximises both the sweeping valley views and the mediterranean light. The clever positioning of the cabin offers sunrise light while the bordering pine forest protects the retreat from the glaring sunset. daab design composed deep eaves to keep out harsh daylight, allowing the family to rest or practice art in the day with softer indirect light. Despite being an ancillary space out of the main farmhouse, daab design approached the cabin with their signature rigour and environmental commitment.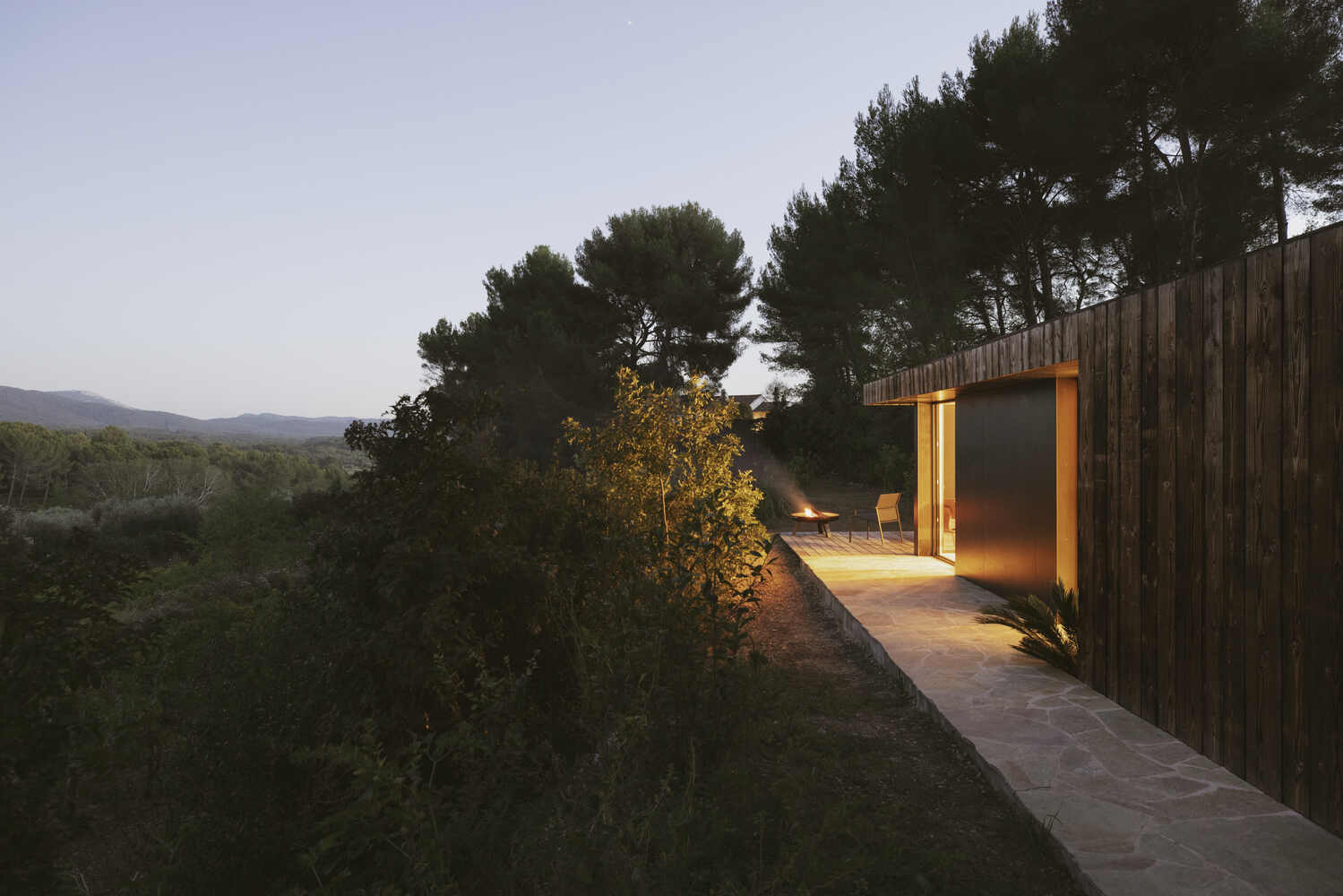 디자인 스튜디오 daab design가 제안하는 Pine Nut Cabane는 남부 프랑스 소나무 숲과 올리브 나무들 사이에 숨겨진 별장 입니다.
프랑스 캐빈 제작회사 Moustache Bois와 디자인 스튜디오 daab design의 협업으로 제안되는 별장은 절제된 럭셔리를 컨셉으로 정적인 건축환경을 구현 합니다. 이를 위해 지속가능한 별장의 건축환경은 차별화된 디자인과 고급재료를 적용합니다. 그리고 빛, 조망, 재료가 투영된 건축환경을 통해 게스트 스튜디오, 다양한 계층의 아트 스튜디오, 다양한 문화의 가족에 유연하게 대응하는 거주공간을 제안 합니다.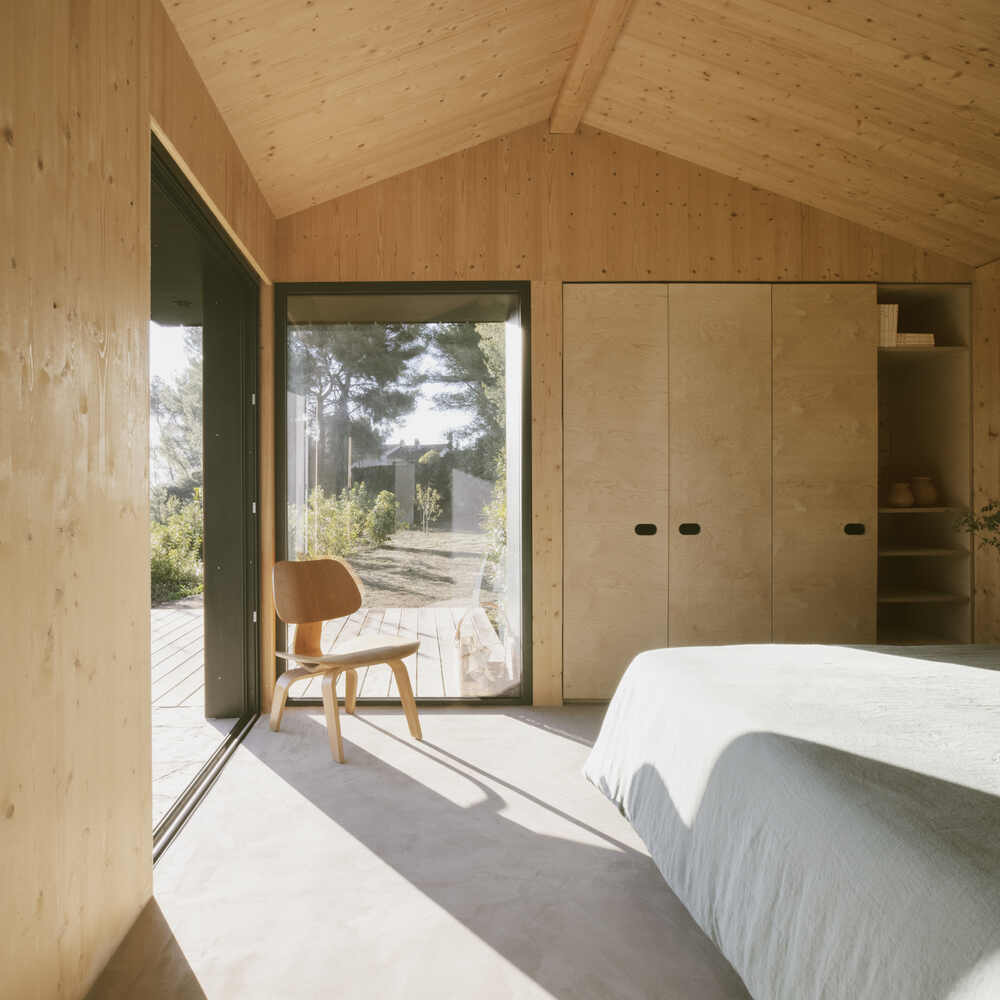 from archdaily