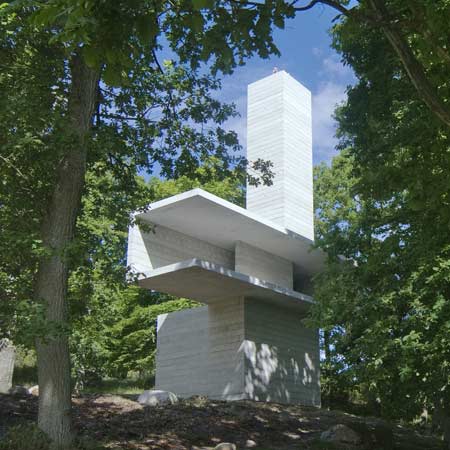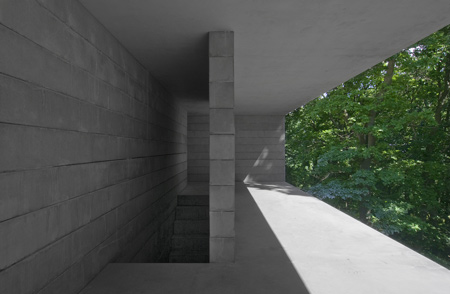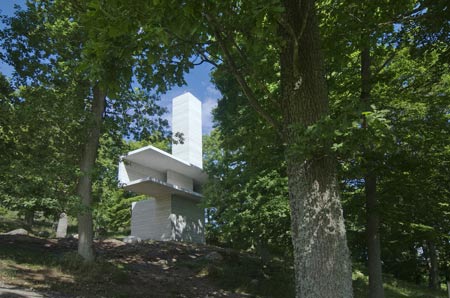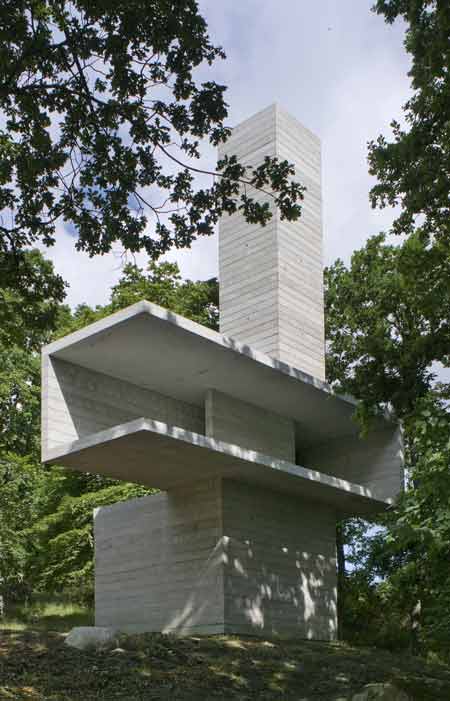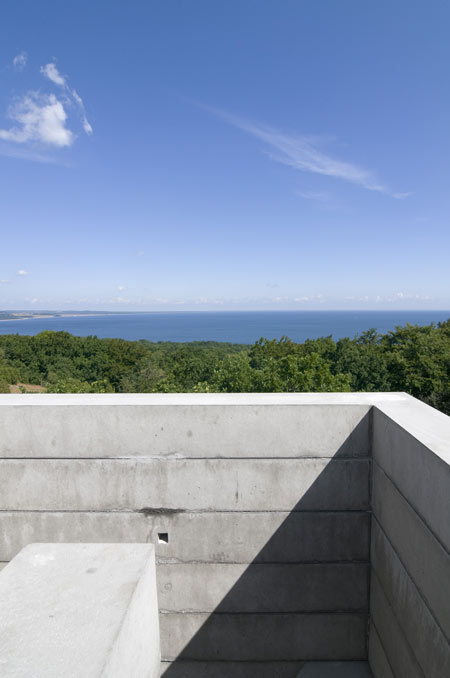 David Chipperfield Architects and artist Antony Gormley have designed the 2008 pavilion for the Kivik Art Centre in Österlen, Sweden, which opens this week.
The concrete structure consists of three parts with equal volumes: an enclosed space in the base, an open viewing platform further up and a tower with spiral stairs leading to an 18 metre high viewing platform.
Gormley says: "I see the work as a meditation on the status of sculpture and architecture and their respective relationships with light, mass and space using the material most associated with modernity: concrete."
David Chipperfield and Antony Gormley design Swedish art pavilion
The 2008 pavilion for Kivik Art Centre in southeast Sweden has been designed by David Chipperfield and Antony Gormley. The pavilion, which was
constructed in only two months, is a sculpture entirely in concrete. Formed of three interlocked 100 m3 volumes – 'The Cave', 'The Stage' and
'The Tower' – the pavilion offers three different ways of experiencing the nature and landscapes around Kivik.
'The Cave' – a solid, dormant space in the base of the sculpture where one can rest on a wall-fixed bench, offers the enclosed feeling of being
in the dark forest.
Stairs then take the visitor up to the first floor – 'The Stage' – a horizontal volume open to the landscape, where one looks out but is also exposed.
The third volume – 'The Tower' – takes the visitor up spiral stairs to a platform almost 18 metres above the ground, where one is rewarded with a spectacular view over the trees towards the Baltic Sea.
"Kivik Pavilions" is a project that combines architecture with art and design. Fundamental are issues of environmental solutions, a symbiosis of the landscape and the pavilion, and corporate partnership with industries in the region. The 2007 pavilion, called 'Mother Ship', was designed
by Norwegian architects Snohetta, in conjunction with the photographer Tom Sandberg.