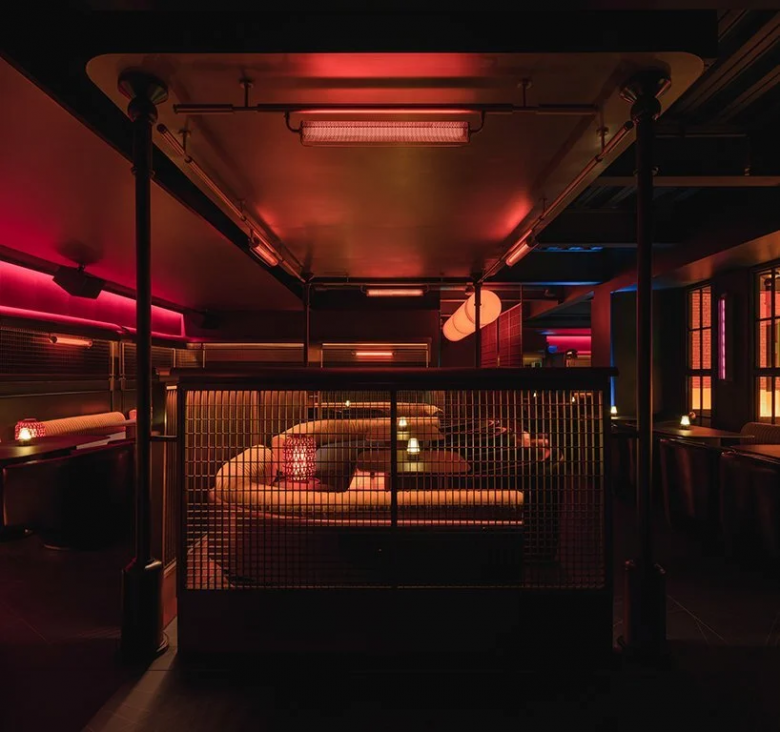 HDC design-Erma pub Taikoo Li
에이치디씨 디자인
Erma — an idiom that in Sichuan dialect means being slightly drunk — fits perfectly as a name of a pub located in Taikoo Li business circle, China. The brand Erma pub collaborated with HDC design to revive their old business, revealing a mixed sense of slight sorrows, laughter, and enjoyment at night. The fusion of traditional red brick with dark metal, the multi-level lines, and the geometrically folded balcony add a retro style to the whole facade. Meanwhile, pops of colors and beams of pink in collision with petrol hues, form the visual system of the entire project.

A tipsy night in Chengdu
The original detached building and the window opening system were the main challenges of the design, while the existing red bricks symbolizing the brand of Erma, asked to be preserved. The l-shaped bar counter on the ground level serves as the core of the pub, where four big funnel-type lanterns hover above, expressing the artistic conception of martial arts chivalry. The enclosed and non-linear layout emphasizes that even when sitting closely, the guests can gather maintaining their privacy.

The division of space is inspired by the traditional Chinese window lattices, which create geometrical lines. The modern metal lanterns light up the youthful vigor in every corner, while metal and lines interweave to create a tipsy night in Chengdu.

Chief designer: Jiajun Tang / Rene
Design Company: Hummingbird Design
Furniture and equipment design: Timestone Design
Illumination design: Hummingbird Design
Lighting system: Lettin
Photography: He Chuan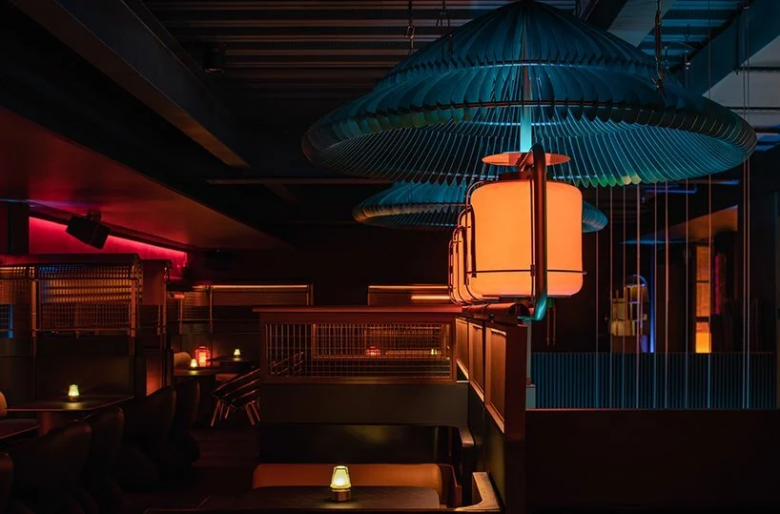 청두의 취한 밤을 표현하는 공간
도시밤거리를 표현합니다. 어두움 속에 푸른조명이 공간의 분위기를 밝힙니다.
중국 전통의 창 격자로 부터 영감을 받아 내부공간은 기하학적 배치로 구성되었습니다. 여기에 현대적인 금속재질 랜턴이 내부 깊숙히 젊은 활력을 표현하는 동시에 금속과 선을 뒤섞여 청두의 술취한 밤을 연출합니다.
from retaildesignblog