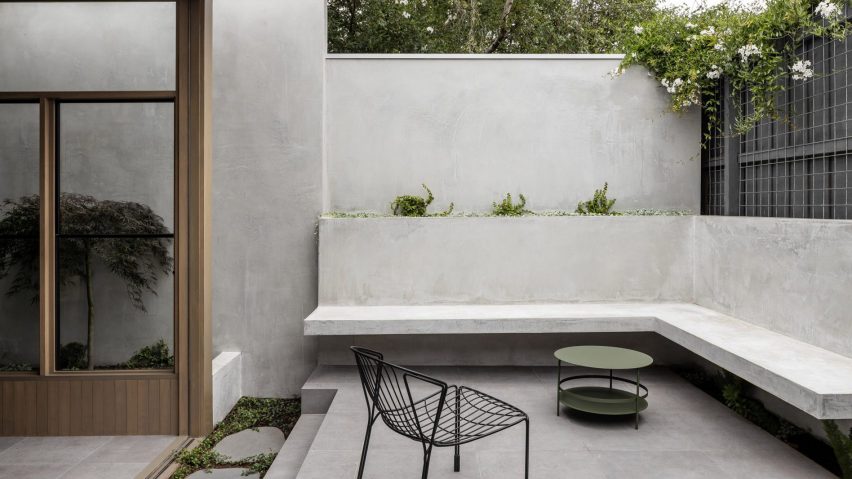 Luke Fry squeezes extension behind bungalow in Melbourne
루크 플라이 스퀴즈 익스텐션 비하인드 방갈로
At the back of a narrow Edwardian bungalow in Melbourne, the studio of Australian architect Luke Fry has added a contemporary extension with greyscale interiors.

The semi-detached bungalow, called Ripponlea House, is set down a tree lined street in the titular Melbourne suburb and belongs to a young family.

The owners initially wanted to turn their home into a two storey property. But, undeterred by the bungalow's small footprint, Fry instead opted for establishing better quality living spaces at ground level.

The studio knocked down the entire rear of the house, preserving only a couple of rooms at the front of the plan.

In its place now stands a lengthy volume that accommodates a dining-cum living area, kitchen, bedroom and bathroom.

A grey linen sofa and a couple of boucle armchairs lie at the heart of the lounge, accompanied by a wood burner and low-lying bench.

The space is fronted by expansive three-by-three-metre glass doors that had to be lifted onto the site by crane.

These can be slid back to grant the owners access to a paved garden with an L shaped concrete seat in its corner, which is inset with a greenery-filled planter.

To further amplify the home's connection with the outdoors, Fry created a couple of smaller internal courtyards including one adjoining the kitchen.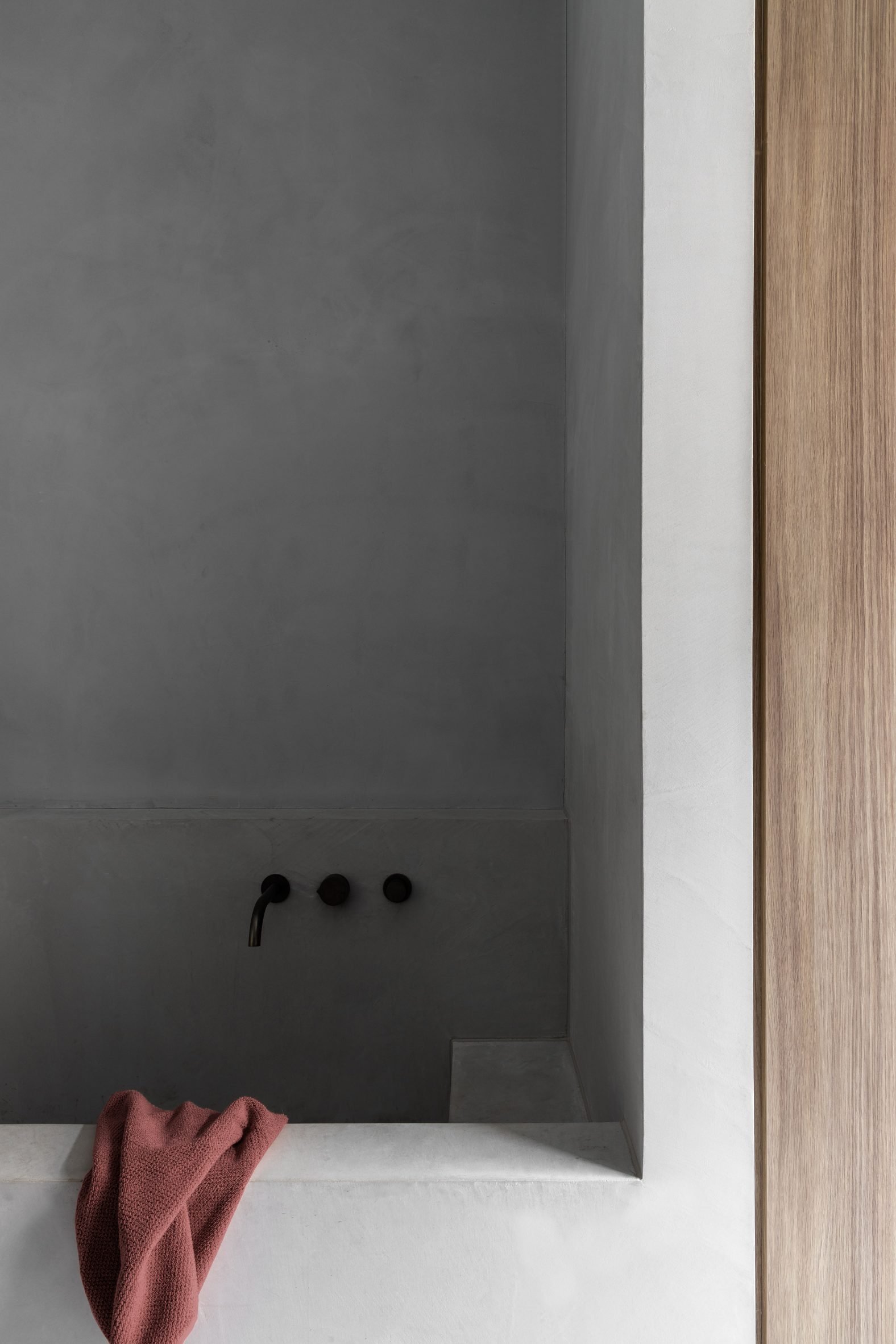 내부공간으로 부터 후정으로 확장되는 거주공간으로 재구성합니다. 멜버른에 위치한 오래된 주택을 새로운 거주환경에 맞도록 고치는 작업은 외부로 분리되었던 마당을 내부공간에서 연속되어 사용할 수 있도록 리노베이션 합니다. 공간 깊숙히 자리한 주방에서 린넨쇼파가 위치한 거실을 통과하면 L 형태의 시트가 후정에 자리한다. 집안 내부의 소통공간으로 사용하는 동시에 다양한 외부활동을 지원하는 장소로 제공됩니다.
---
---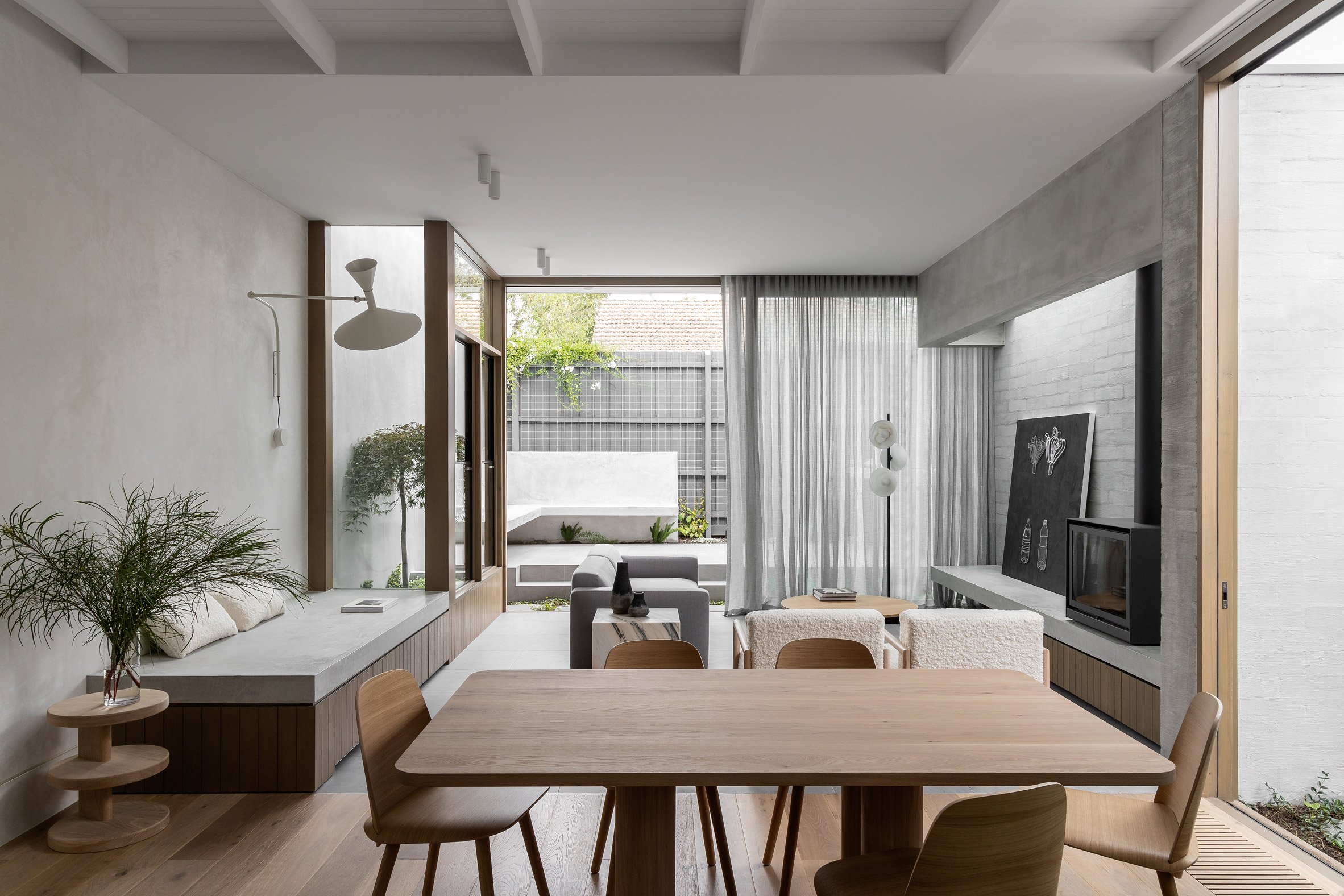 from dezeen