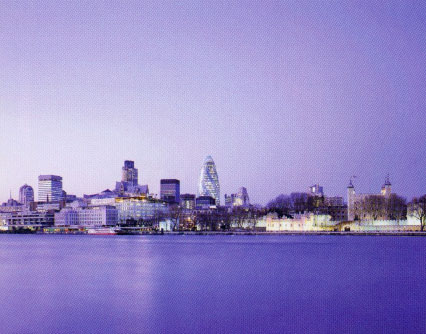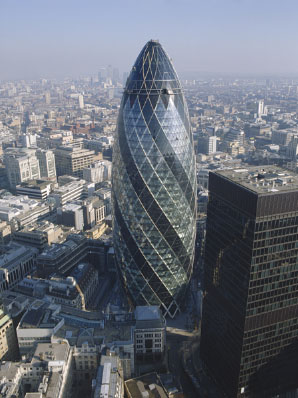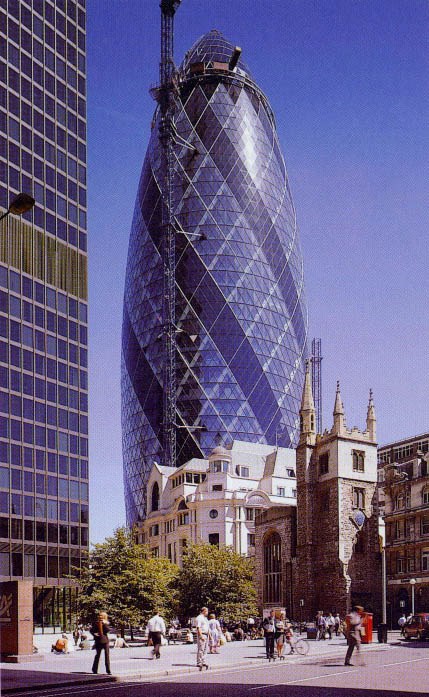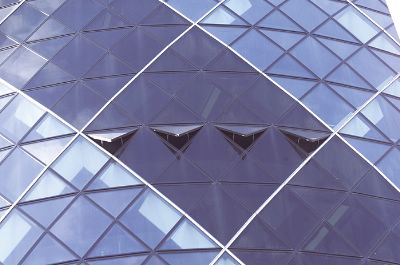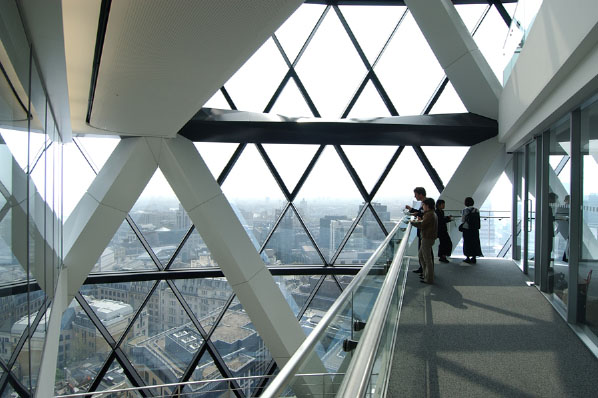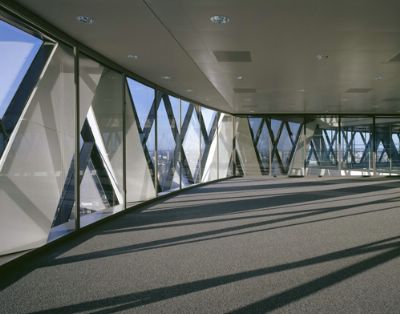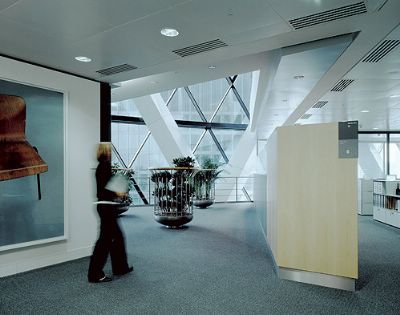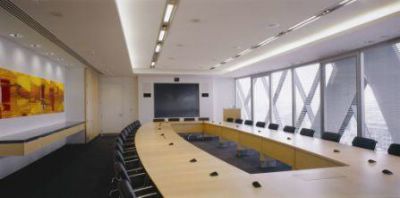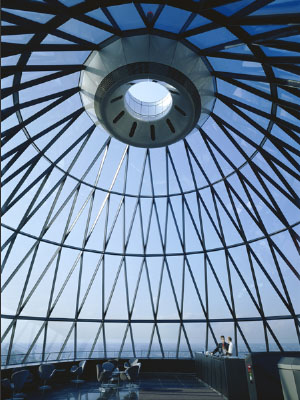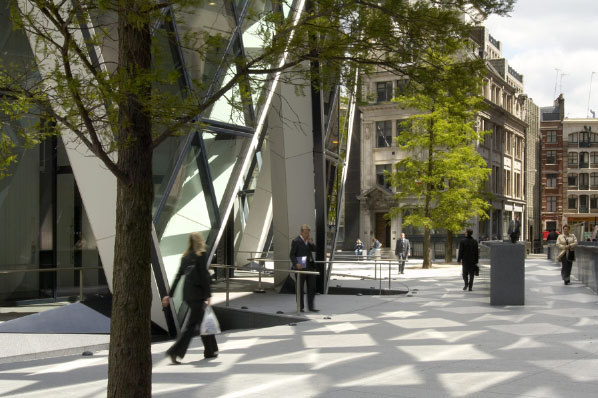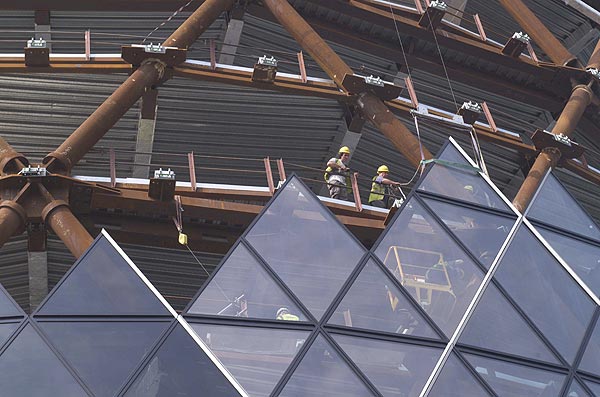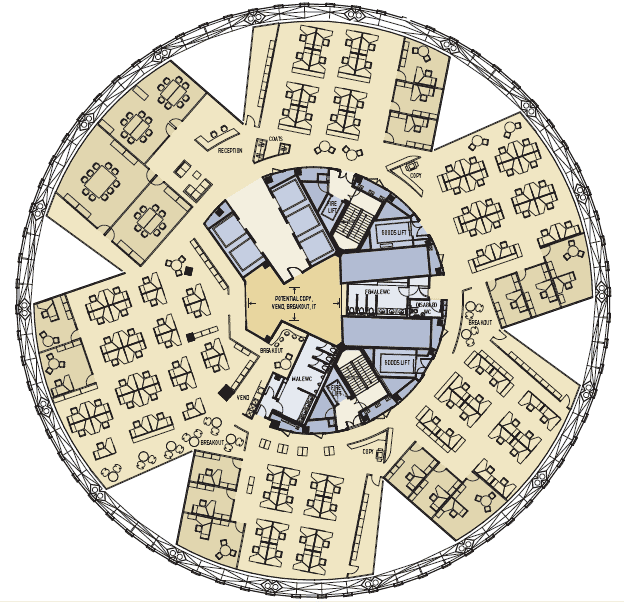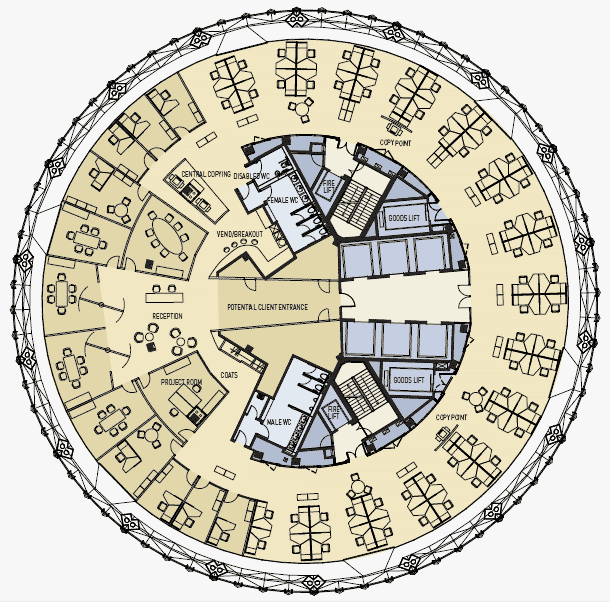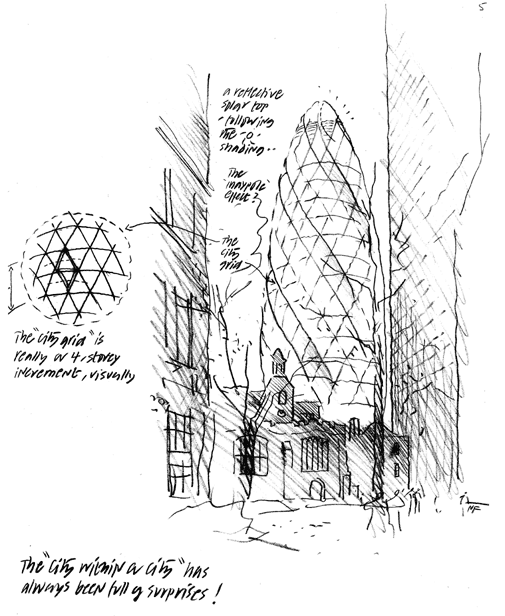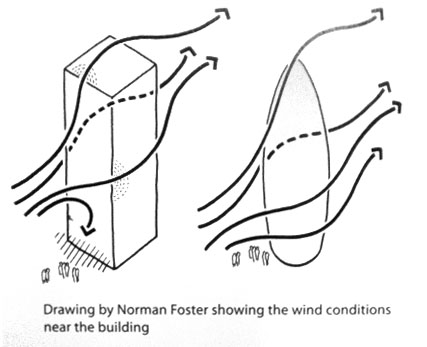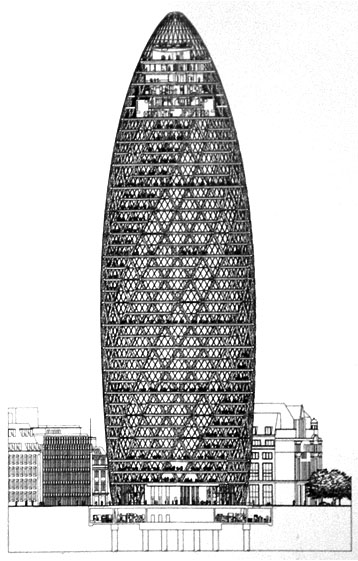 Swiss Re London Headquarters is a landmark 40-storey office building in the heart of London's financial centre, developed by Swiss Re and designed by architects Foster and Partners. Located on the former site of the Baltic Exchange, the distinctive form of the building adds to the cluster of tall buildings. This London's first ecological tall building is instantly recognisable, rooted in a radical approach by technically, architecturally, socially and spatially.
Swiss Re, as the one of the worlds leading reinsurance companies, provides 76,400 sq m of accommodation, including offices in the tower and retail space at ground level, opening onto the landscaped plaza, and it's open to public. Dining and events facilities are at the top. The building has a circular plan that widens as it rises from the ground and then tapers towards the apex to respond to the demands of the small site, which makes it appear less bulky than a rectilinear building of equivalent floor area.
Environmentally, its aerodynamic form encourages wind to flow around the building, minimizing load on the cladding and structure, reduces the amount of wind deflected to the ground compared with a rectilinear tower of similar size, helping to maintain pedestrian comfort at street level, and creates external pressure differentials that are exploited to drive a unique system of natural ventilation. The building's appearance also reduces reflections and improves transparency and daylight penetration to the offices inside.
Among the building's most distinctive features are its windows, which open to allow natural ventilation as well as the building is air-conditioned so that for up to 40 percent of the year many of the mechanical systems can be supplemented to reduce energy consumption. To facilitate this, fresh air is drawn through the light wells that spiral up through the building, while the aerodynamic form generates pressure differentials on the facade that assists the natural flow.
Atrium between the radiating fingers of each floor link together vertically to form a series of informal break-out spaces that spiral up the building. These spaces are a natural social focus places for refreshment points and meeting areas - and function as the buildings lungs, distributing fresh air drawn in through opening panels in the facade. This system reduces the towers reliance on air conditioning and together with other sustainable measures, means that the building is expected to use up to half the energy consumed by air-conditioned office towers. Whenever possible, recycled and recyclable materials have been specified throughout the building.
In 2004, Swiss Re London Headquarters awarded the RIBA Stirling Prize. The building is an embodiment of the core values about humanizing the workplace, conserving energy, democratizing the way people communicate within a building, and the way that building relates to the urban realm.
building, commercial, Contemporary, metal, nonlinear, sustainable