robert stone -rosa muerta
로버트 스톤-로사 뮤타

following acido dorado in the arid landscape of joshua tree, LA-based architect robert stone has erected the symbolic antithesis to traditional dessert architecture. a structure classically massed and proportioned at times skewed with rebellious eccentricities stands boldly contrasting its natural surroundings. a rich palette of dark hues and textures breathes life into the open air structure offering an endless discovery of tones and reflections in what is otherwise a home rendered of a single color: black. in breaking from expected conventions, the dark residence in a light desert fuses the highest standards of contemporary finishes with a strong almost subversive undertone of social commentary.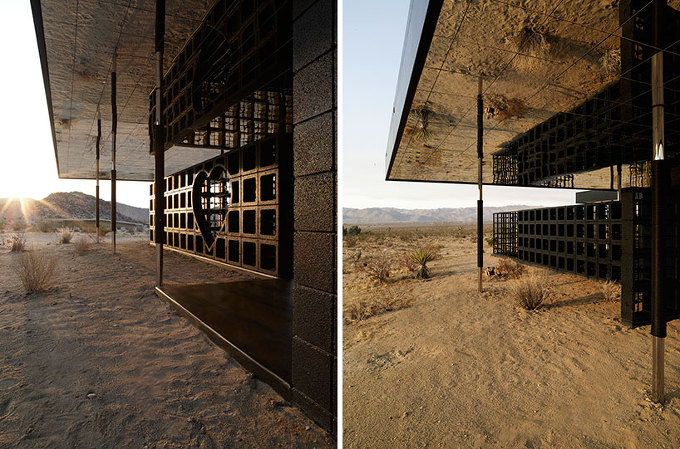 하우스가 지향하는 건축환경은 건조기후를 투영한 열린공간 구현과 주변환경(사막)과 대조적인 구도를 이루는 상징물 생성을 목표로 진행된다. 단순한 조형미가 전달하는 강력한 메타포는 어두운; 다크계열의 재료 및 블랙컬러 도장면과 매치되며 공간의 카리스마를 증폭시킨다. 건조기후로 부터 거주성 확보는 작렬하는 직사광 유입방지를 위한 장중한 지붕으로, 열부하 방지를 위한 열린 건축으로 완성된다. 이는 거주자의 프라이버시를 위한 최소한의 솔리드 스페이스, 이를 제외한 벽과 지붕은 외부로 최대한 오픈된다. 여기에 지붕 또한 벽으로 부터 이격된 사이공간을 생성, 바람길, 자연환기를 유도한다.
더보기
'I think rosa muerta gets a lot more interesting once you notice that it isn't just a normal modern house painted black. it is black to the bone. I used black to negate the house as a figure in the landscape. the desert is seen as a void by many- so the house goes further and voids itself. a desert within a desert – it inverts figure and ground and makes the surrounding desert the focus, the figure, and the color. that is just the surface though.'

'once you get past that, and your eyes attune to the details, the house reveals a mix of textures and ideas that one wouldn't normally accept together- classic modern lines stretched horizontally beyond reason, funereal flowers overtaking structure, limousine glass and lava rock, silk rope on rough wood beams and polished stainless columns that run off into the desert, mirrors secreted under deep overhangs, a heart shape removed from the center of a concrete wall. it is as highly finished as any jewel of modernism but perhaps most closely resembles a burned-out abandoned house.'

'I see the tension between these things- and their uneasy resolution under the coat of black paint as the thing that makes the house interesting and meaningful over time. it adds up to a portrait of southern california desert culture and its complex relationship to nature. the house puts you in the middle of that and you have to figure your way out. some people like this house and some don't- I hope it is beyond that and can be seen as a true representation of a larger cultural condition. . and truth is beauty.'

'the question of how we relate to nature has been at the core of california modernism for 60 years, but the answers being proposed to that question haven't changed over that time. mass production, pre-fab, and clinging faith in technology remain the published response of the architecture world while the cultural condition that surrounds us has transformed entirely. nature is no longer simply revered- it is also feared. technology may save us or kill us. I am interested in the full complexity of our relationship to nature and finding some truth in it whether negative or positive.'
from designboom