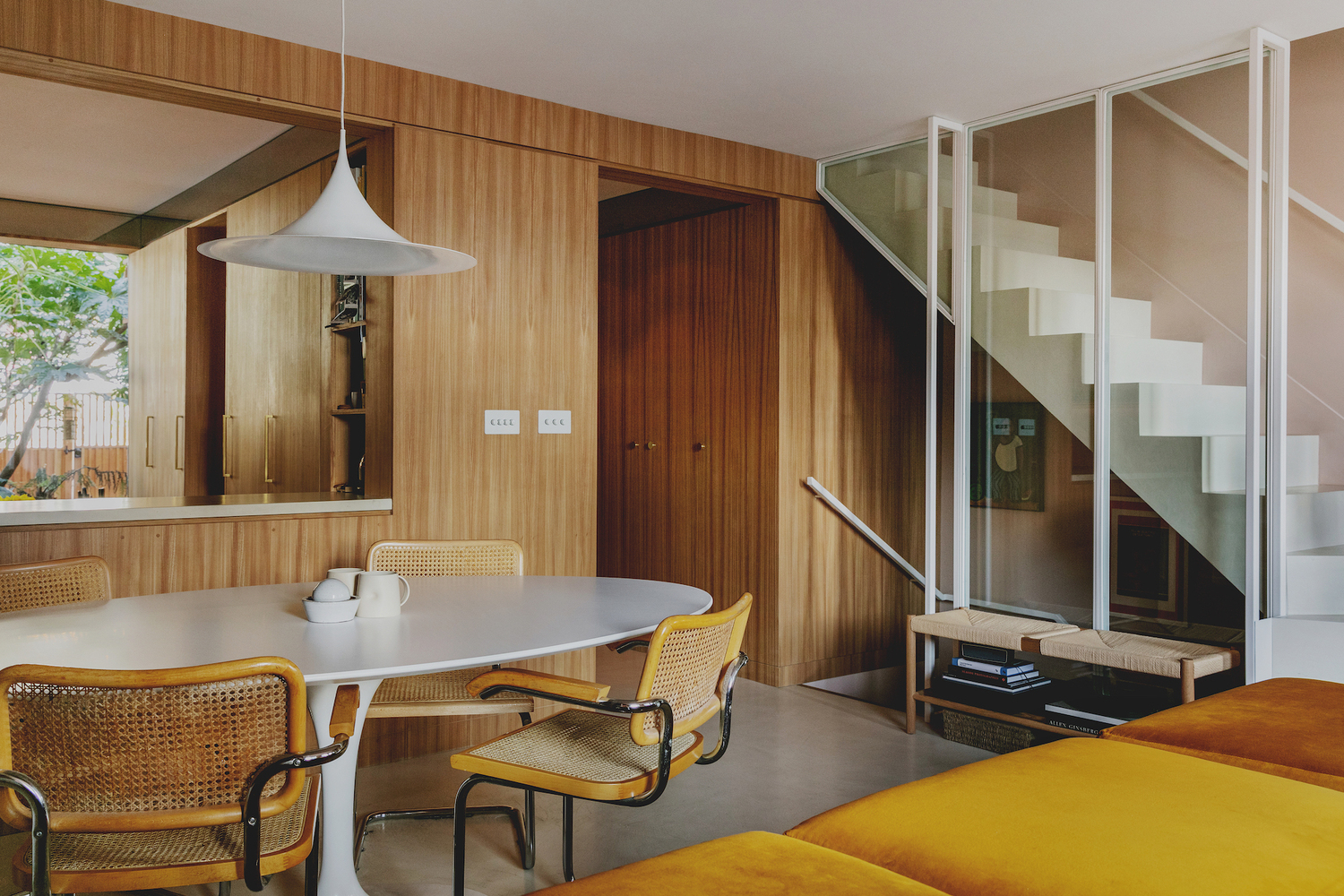 Studio Hagen Hall-Canyon House
스튜디오 호겐홀- 캐뉴언 하우스
Studio Hagen Hall has transformed a North London townhouse-turned-bedsit into a bright and textural 1970's California-inspired home complete with a recording studio for a young musical couple. Recording artists Ben Garrett and Rae Morris fell in love with the bones, location, and well-established garden of the townhouse and immediately sought the expertise of Studio Hagen Hall after discovering their work online. Iconic architecture has played a key role in the brief. The clients drew on themes and designs from the Eames House and the work of modernist architect John Lautner. The brief envisioned Canyon House as a home with a feel-good 1970's atmosphere and a space that would be flexible to suit both intimate and sociable occasions, with strong visual connections throughout.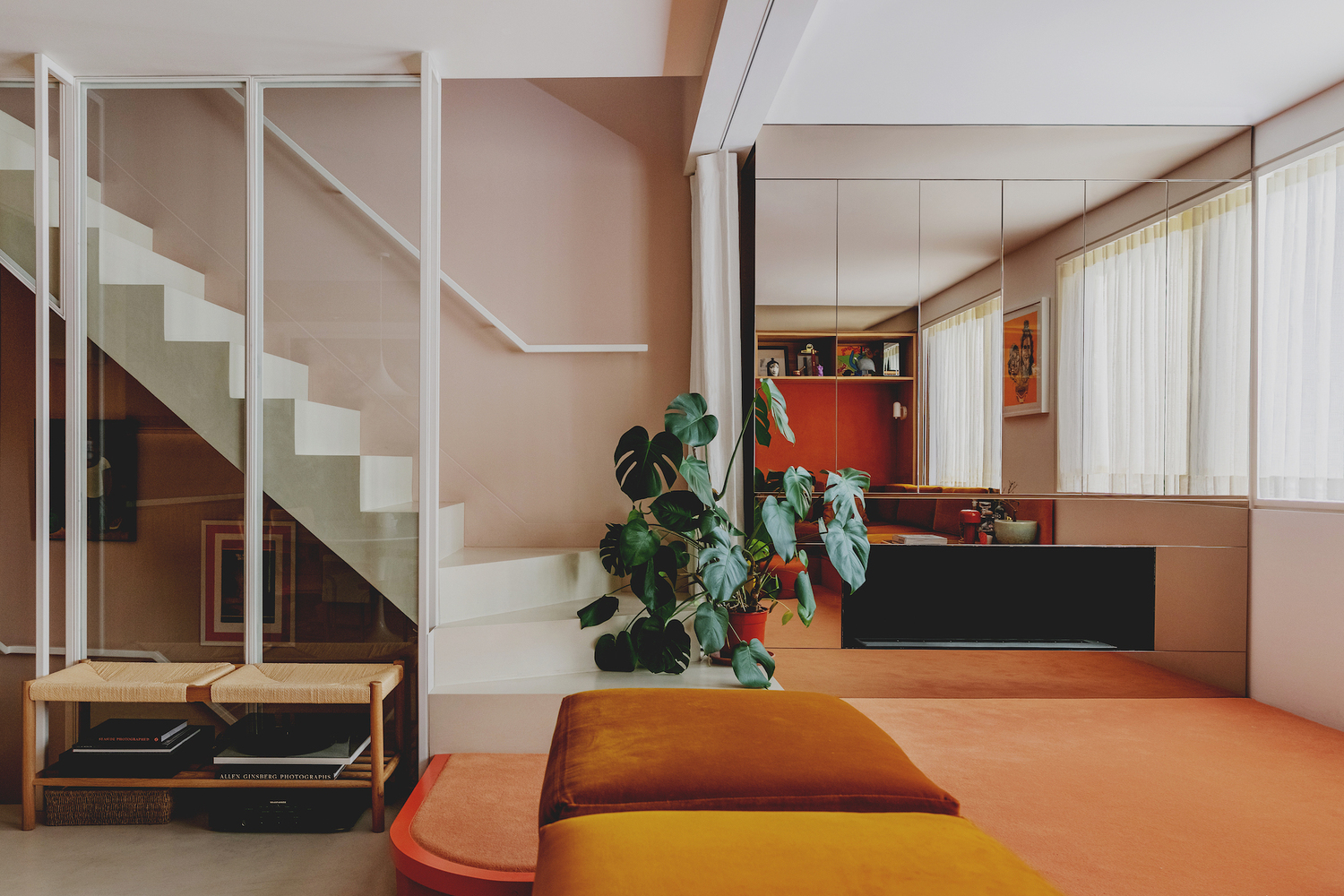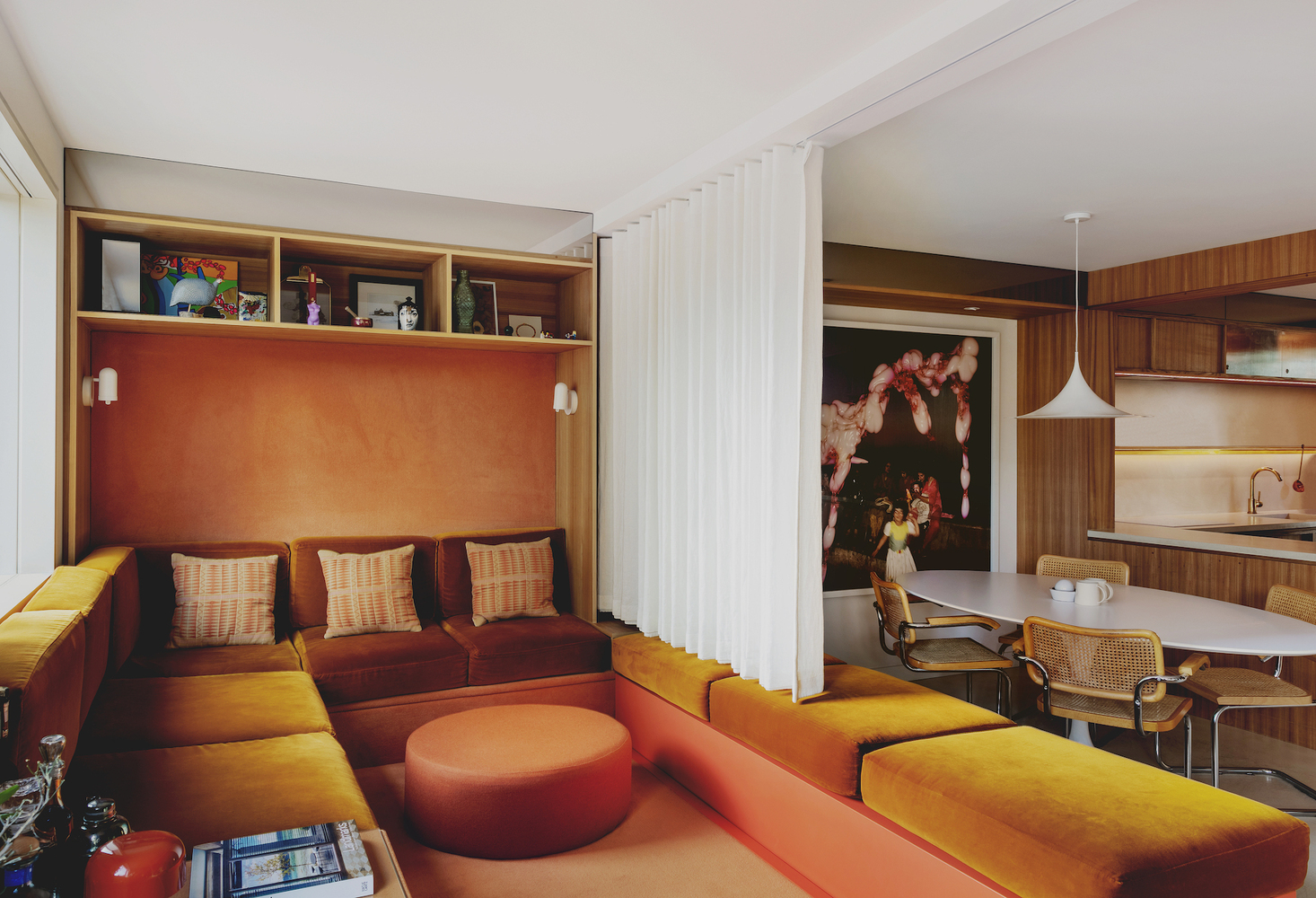 설계자는 최대한 재료와 질감의 조합을 신중하게 선택, 모던하면서도 모더니즘적인 균형공간을 구현합니다. 별도의 산화처리를 하지 않은 황동은 그 자체로 시간을 흡수함에 따라 자연스레 빈티지 센츄리 조명들과 함께 공간 속에 녹아 들어 갈 것 입니다. 라운지 공간의 바탕이 되는 카페트는 풍부한 텍스쳐와 웜톤으로 코지한 내부공간을 연출하며 브라운-스모크 거울과 코크 베스룸 바닥재와 함께 70년대 인테리어 스타일을 재현합니다.
One of the core design interventions was reconfiguring the original stair on the ground floor by creating a level change to unlock a large section of the lounge area. This seemingly simple design idea allowed Studio Hagen Hall to create an elevated conversation platform and snug - fitted with bespoke velvet sofa with hidden storage - that could be connected and removed from the dining space by heavy linen curtains drawn from custom elm recesses. On the lower ground floor, Studio Hagen Hall inserted a professional-grade recording studio and writing room, one of the most challenging spaces to design due to its need to be structurally separate from the rest of the house to achieve acoustic isolation.

The studio sits as its own room within the lower ground floor, fitted with custom-made acoustically insulated doors and windows, and with a separate ventilation system so recording can take place in the soundproof space with access to fresh air. Studio Hagen Hall carefully selected a combination of materials and textures to create a modern yet Modernist balance. The brass unlacquered hardware will patina beautifully alongside the original vintage mid-century lighting and furniture. The richly textured and warm-toned carpet and upholstery in the lounge creates a cosy, luxurious feel while the brown smoked mirror architraves and cork bathroom flooring and bath façade all nod to the 1970's style.

The steel and glass balustrade maintains a modern open-plan feel and seamlessly connects upstairs and downstairs. Consistency and continuity help create the sense of flow, with micro cement used for the flooring, worktops, sinks, and baths. The bespoke elm kitchen looks and feels like a room within a room. The beauty in the craftsmanship comes through in the tactility of the cabinetry, fluted glass, and brass hardware. It was designed by Studio Hagen Hall and built by joiner Tim Gaudin, who will soon be launching their new bespoke kitchen company, Bysse, together. A built-in window seat gives the clients views out onto the established garden and back through the living area.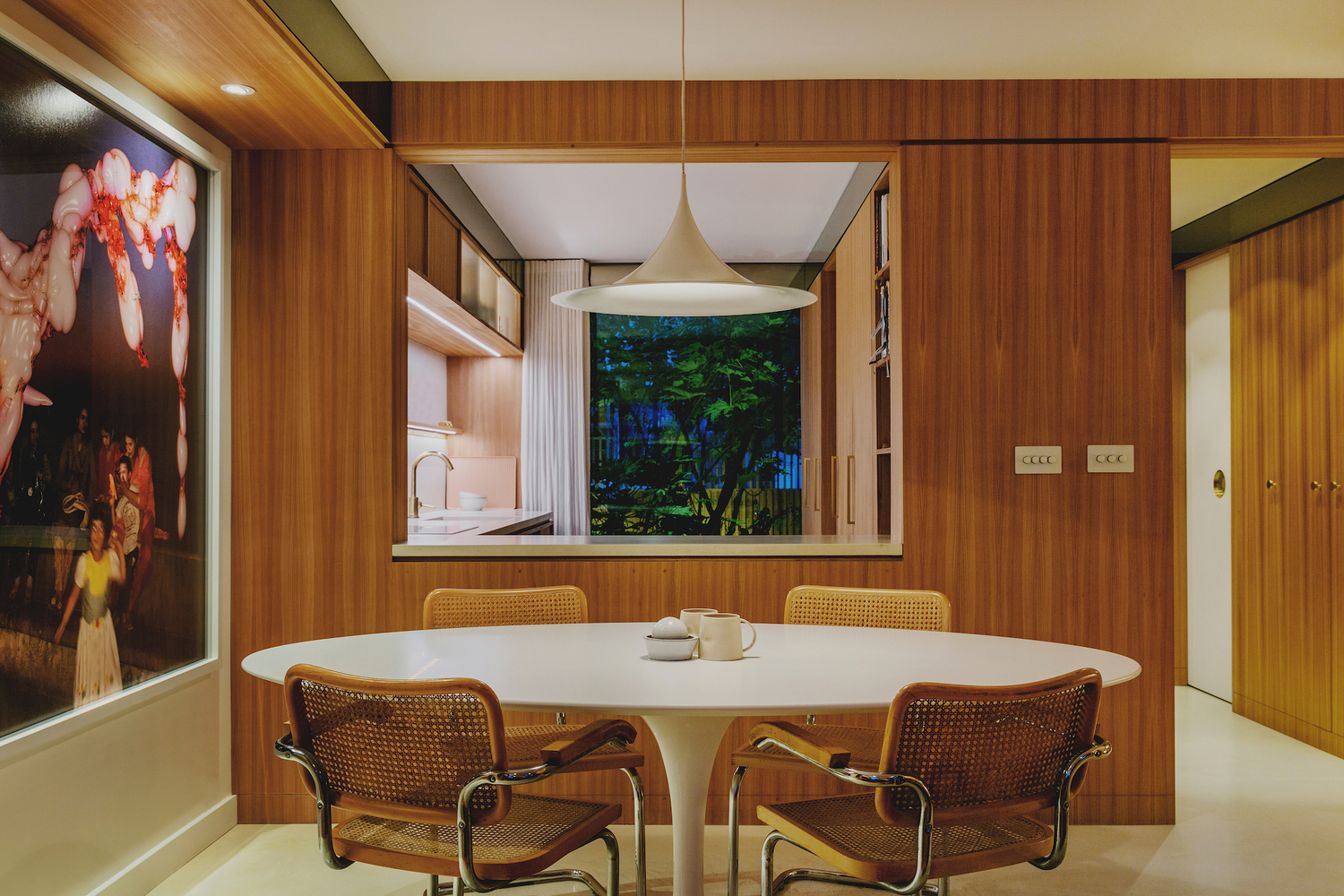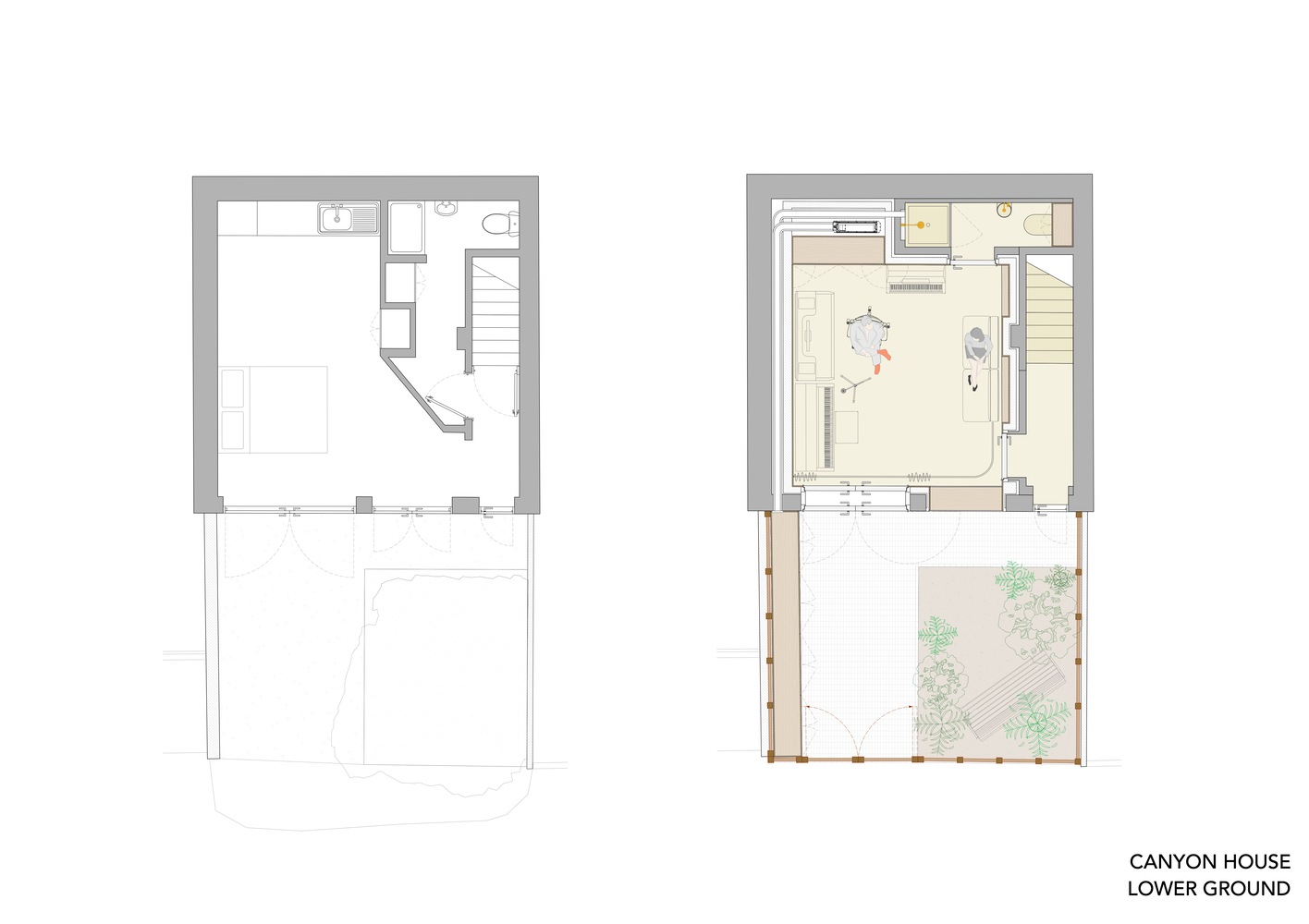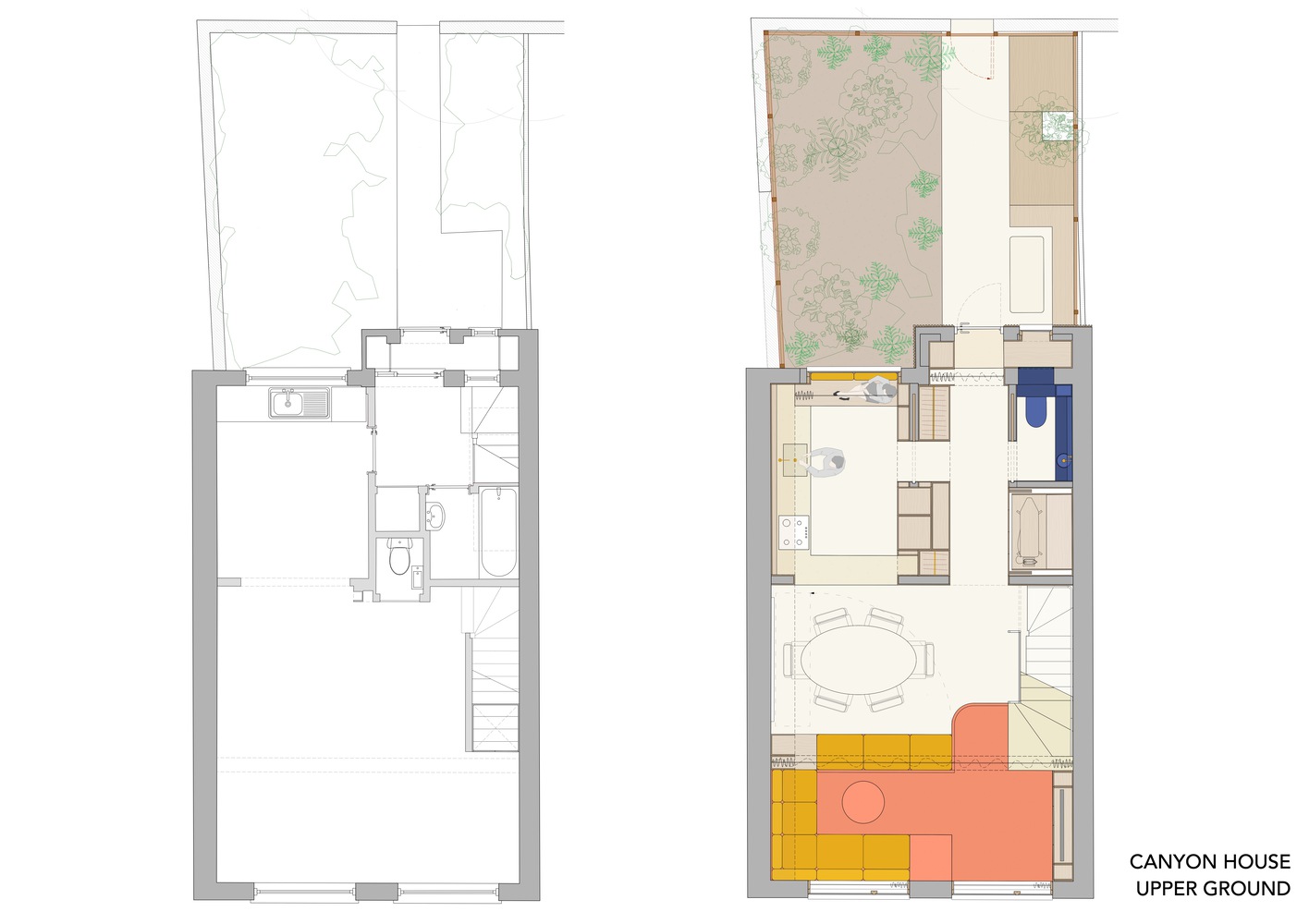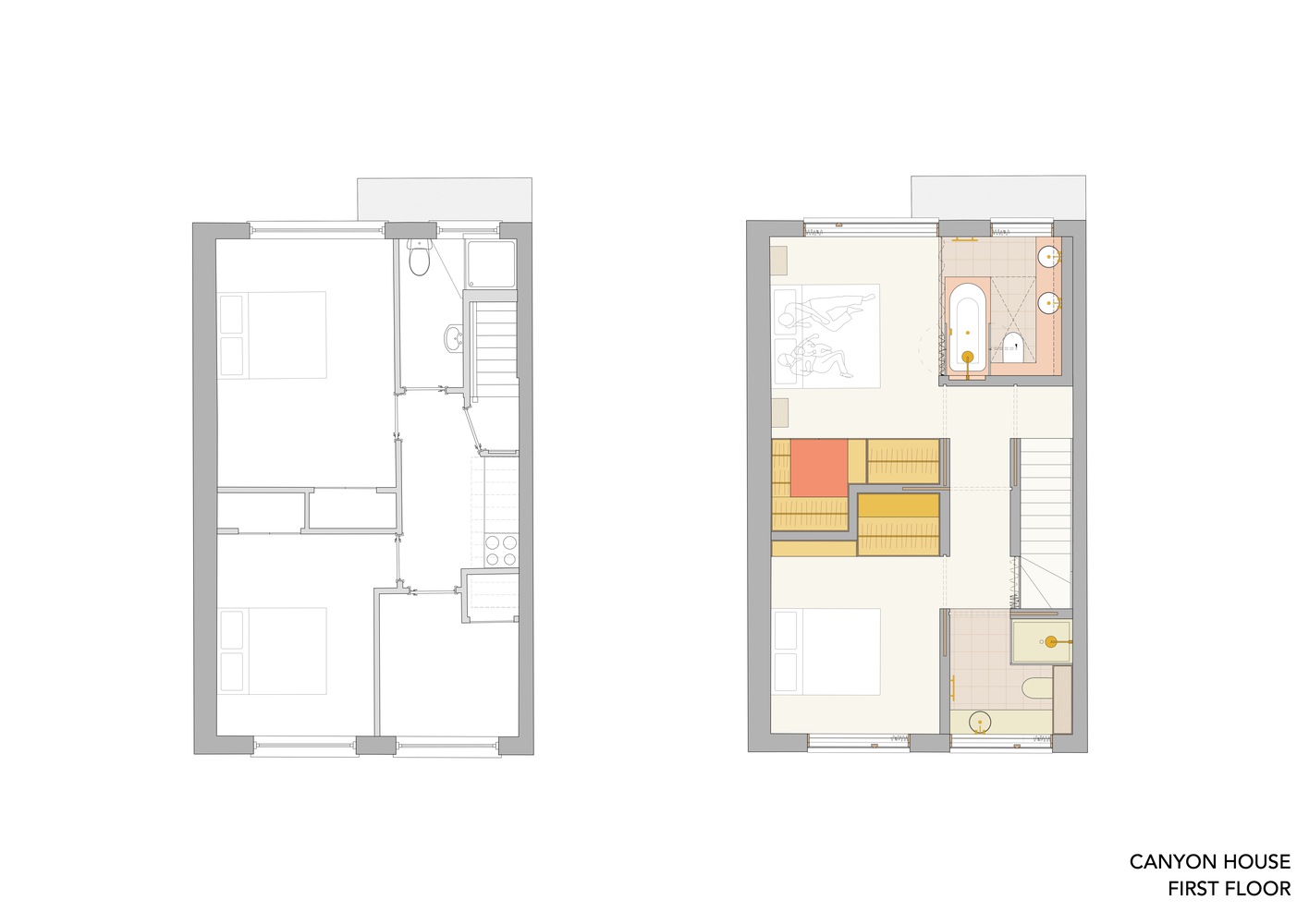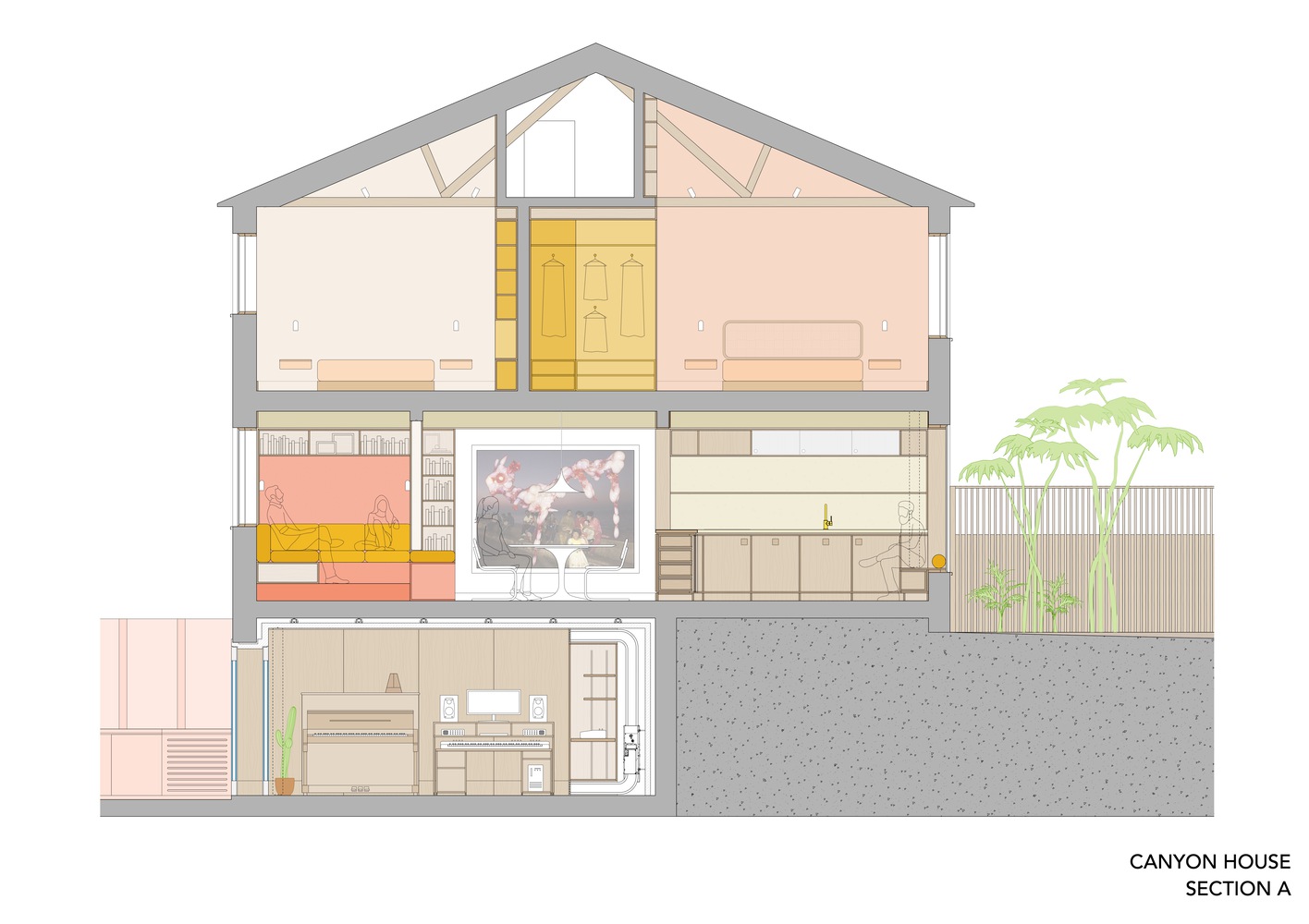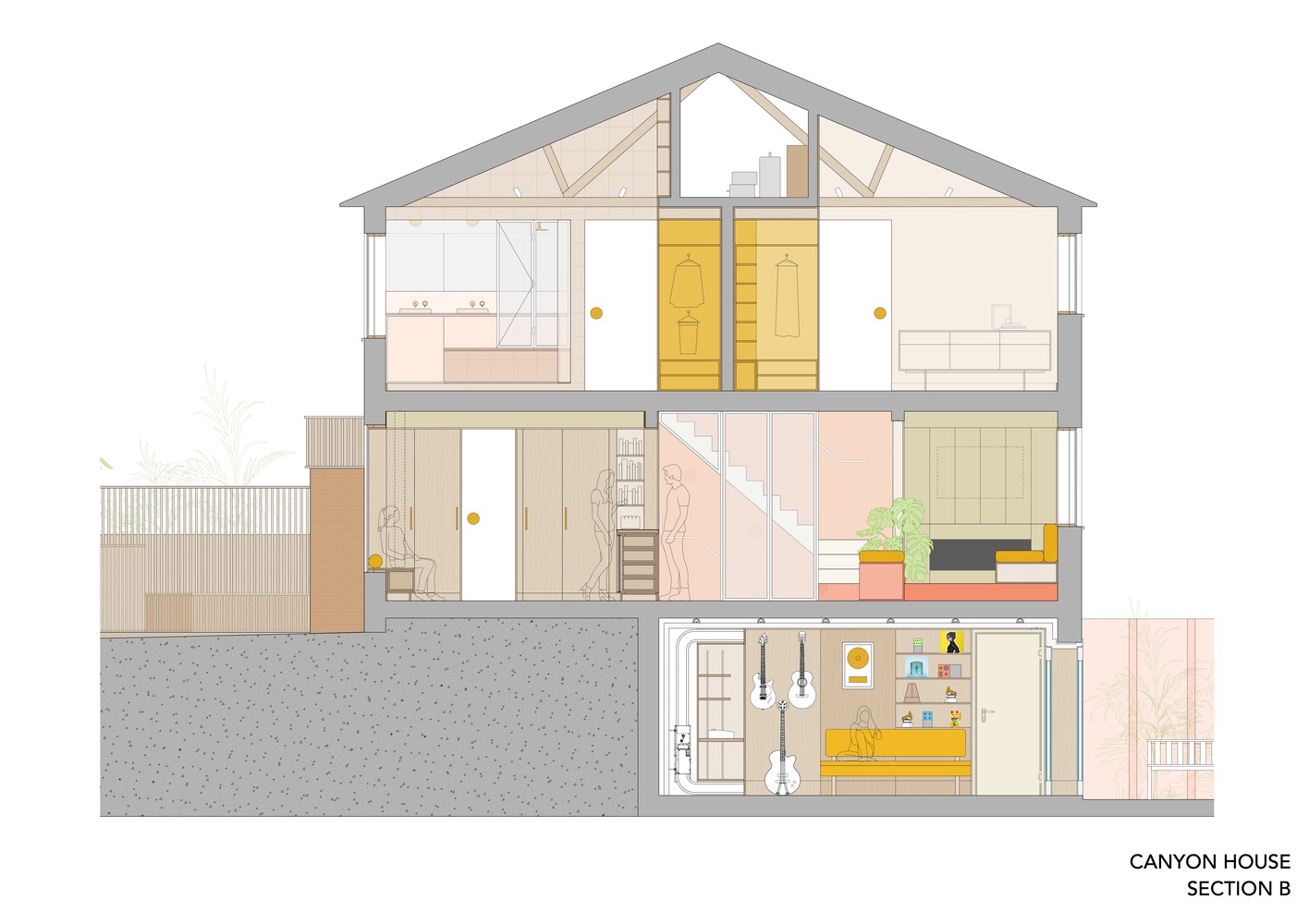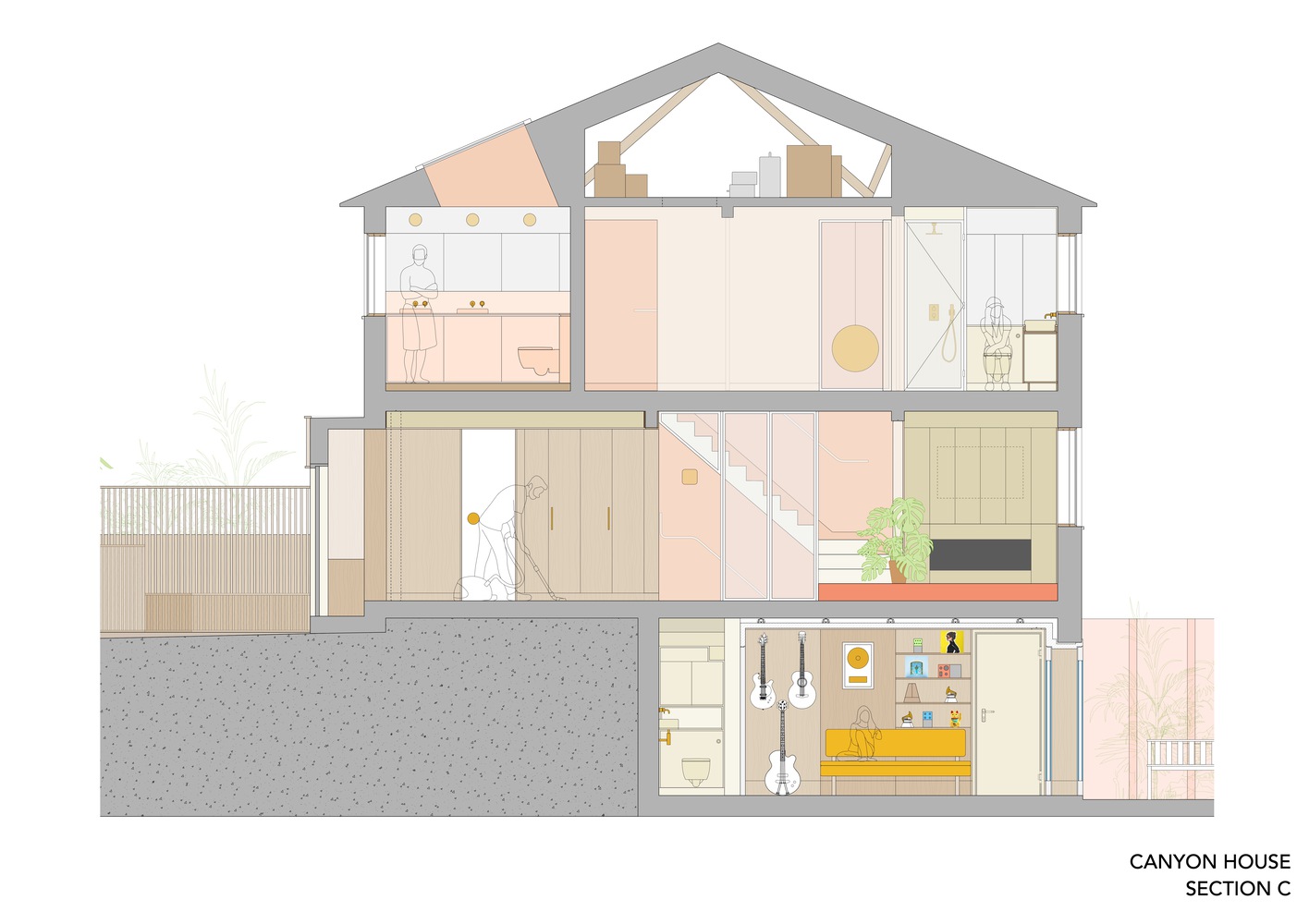 from archdaily