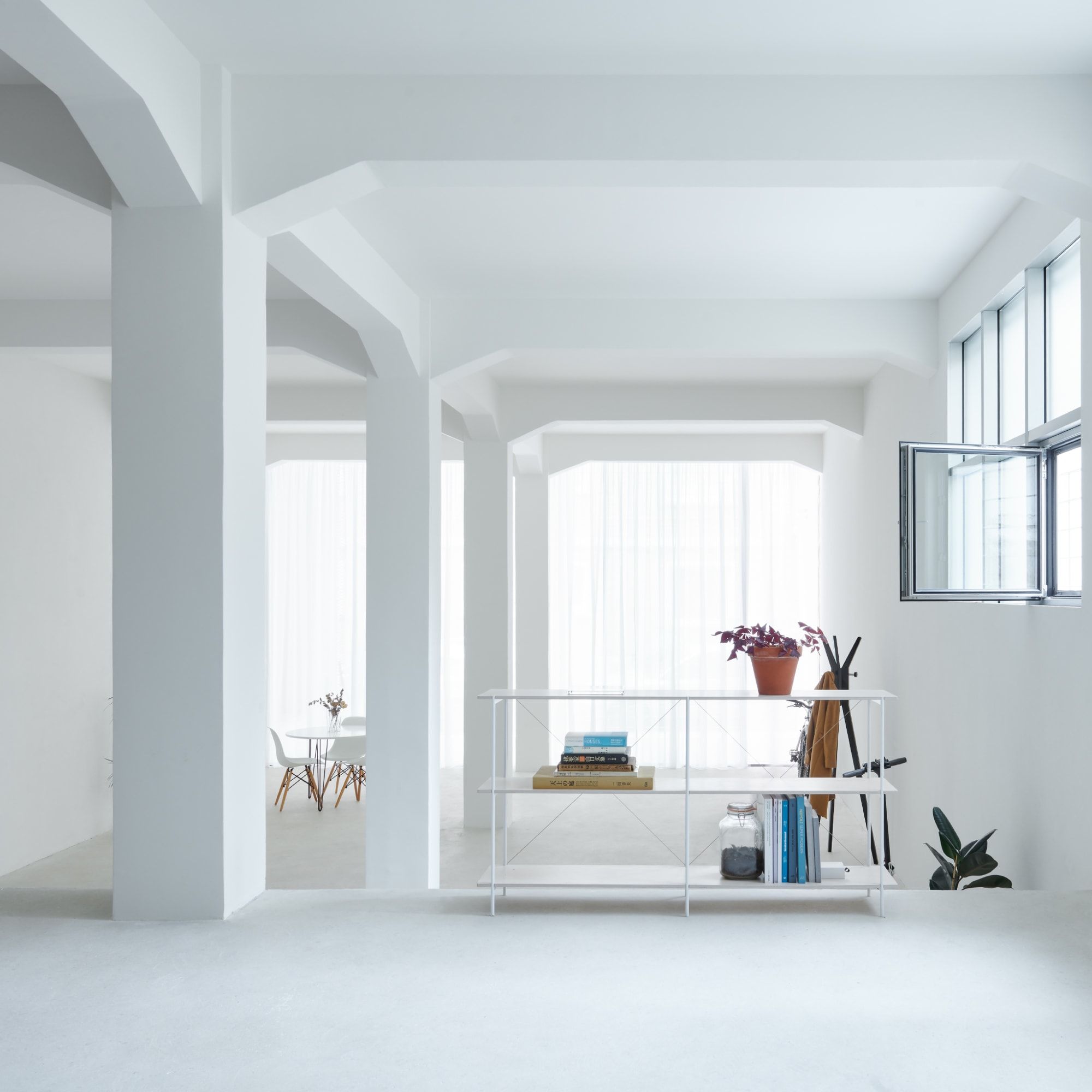 Arrova-Loft A
아로바
Loft A is a minimal apartment located in Pamplona, Spain, designed by Arrova. The new dwelling is the result of the transformation of an old motorbike repair shop in the Milagrosa district of Pamplona. The intention of the project is to be a kind of prototype for this form of reconversion in the neighbourhood, as it has a large number of industrial premises now in disuse and their transformation would greatly help to revitalise the area, a possibility that is however unknown in many cases to the local residents. Given the difference in level between the streets on which the loft is situated, it acts as a podium for the rest of the building. One of the primaries aims of the project was to strip the shop from of all the unnecessary existing elements. The space would then be freed up to show the powerful and plastic structure that supports the building. The present structural system, which is tectonic in nature as it is composed of concrete pillars, beams and slabs, also allows the façades to open up towards both the street and the block courtyard. The given transparency of these fronts and their different orientations give the space a great serenity thanks to a diffuse and continuous white light. Furthermore, this operation of dismantling and aperture allows the entrance to be transformed into a porch, a semi-private urban garden that acts both as a filter and as a space of union and transition between the house and the street.

Ultimately, the podium ensures that the spatial continuity throughout the loft is kept. Nevertheless, the notion of depth and scale in this abstract space is defined by means of vertical architectonic elements made of okume wood. Fixed and mobile planes that allow the kitchen or the bathroom for instance to be placed in such a way that they are concealed but at the same time accessible. In short, the loft is a scenography similar to those proposed by the Swiss architect Adolphe Appia in which the new space under the podium is transformed into a working space, a domestic stage pit. This space, unlike the rest of the loft, is defined by concrete walls and the existing foundations of the building, thus being a continuation of the ground plane. The deliberate predefinition of this space with a specific use and materiality frees the rest of the platforms from a specific function, thus giving the dwelling a great deal of flexibility in which each accessible space can accommodate any activity. In addition, and to further enhance the flexibility of use, the staircases act as furniture that can be repositioned at will, thus introducing multiple routes and internal configurations.

Photography by Iñaki Bergera
Loft A가 설계한 Arrova는 오래된 오토바이를 수리 복원하는 가게를 새로운 미니멀 아파트로 탈바꿈한 작업입니다.
이번 작업의 의도는 현재는 사용되지 않는 이전 산업시대의 공간들을 현재의 장소에 적합하도록 재구성하는 프로그램입니다. 이리하여 불필요한 요소는 제거, 순수한 구조공간 속에서 최소한의 건축환경이 표현됩니다.
from leibal