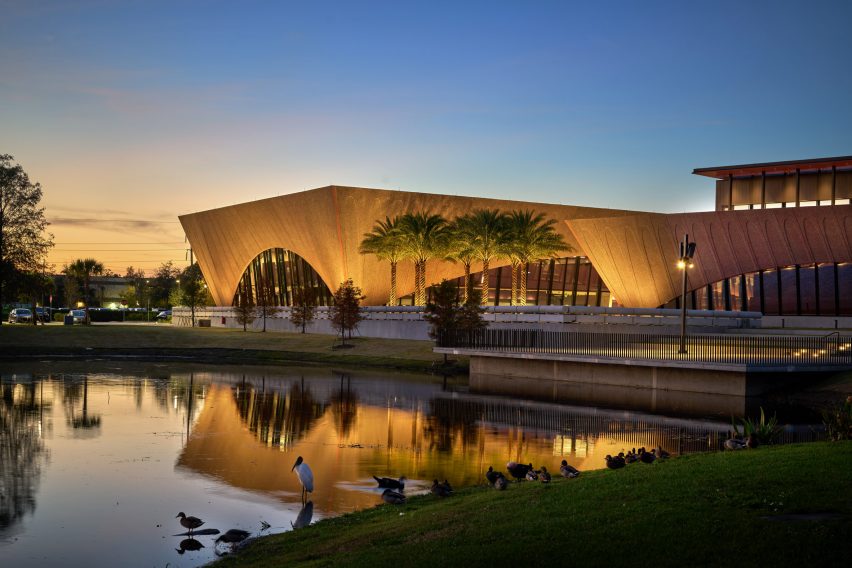 Adjaye Associates completes rose-hued culture hub in Florida
플로리다 컬처허브
British architecture firm Adjaye Associates has designed a collection of pigmented concrete pavilions in Winter Park, Florida, to house a library and an events centre.

Located on the northwestern corner of the 23 acre (9.3 hectares) Martin Luther King, Jr. Park in Florida, the Winter Park Library and Events Center comprises three pavilions and was described as a "micro-village" by Adjaye Associates.

The culture hub, which replaced an existing civic centre, was developed as part of an extensive revitalisation of the park and first announced in 2017.

It comprises a 35,155 square-foot (3,266 square-metre) library, an 18,200 square-foot (1,690 square metre) events centre and a 2,457 square-foot (228 square-metre) Porte Cochère, a portico-style canopy that will be used as a pick-up and drop-off point.

The pavilions were designed as square and rectangular buildings with exterior walls that are angled inwards at their base. Large vaulted arches on the sides of the buildings provide views from the interior across to the parkland.

Materials used were locally sourced, with the precast concrete used across the facade sourced from within 25 miles of the site.

The project's design also references its surroundings, with the vaulted arches informed by the park's plant life and local architecture.

"Arches, inspired both by local fauna and the region's vernacular architecture, establish the form of the pavilions, with vaulted rooflines and sweeping windows creating a porous relationship between interior and exterior, drawing natural light deep into the buildings," said Adjaye Associates.

The two storey library houses collection spaces, a computer lab, an indoor auditorium, a recording studio and youth spaces. It has an open-plan design to aid accessibility throughout and four timber-lined cores that hold archival collections, reading rooms and support zones.

The events centre contains a rooftop terrace and a large auditorium surrounded by flexible open spaces, as well as an amphitheatre and a rooftop meeting room.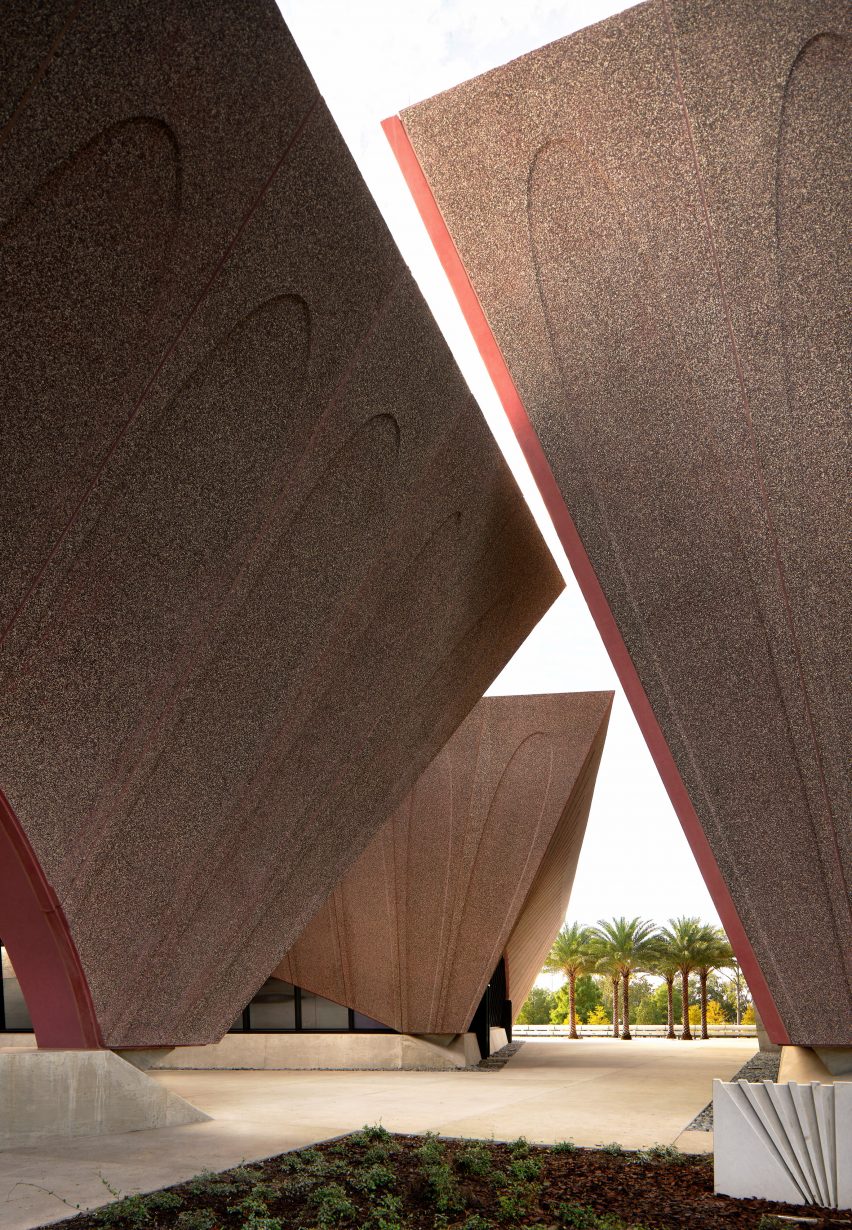 외벽 상단이 바깥쪽으로 기울어져 있는 파빌리온은 정사각형과 직사각형의 조합으로 설계되었습니다. 건물 측면의 거대한 둥그런 아치는 내부로 부터 공원조망권을 제공합니다. 여기에 사용된 자재는 지역재료를 사용했으며, 전체 파사드에 전용된 프리캐스트 콘크리트는 현장의 25마일 이내에서 조달됬습니다.
from dezeen