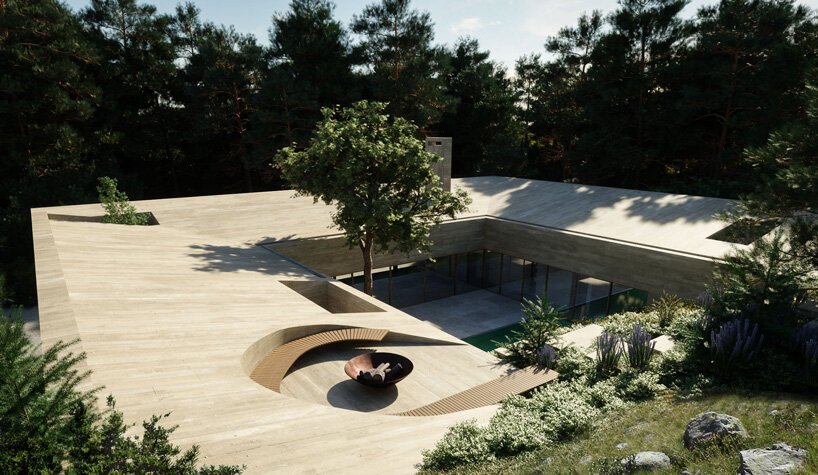 OODA-Casa CM
까사 씨엠
central patio invites the surrounding nature inside OODA's casa CM in portugal
Located in Oeiras, a town west of Lisbon, Casa CM by OODA is a private residence that celebrates the surrounding topography as the main guiding principle of its design. Incorporating an existing slope, the house takes shape around an open, central patio that connects the interior to the site's lush nature. This central void is formed by three sides that are 'diluted in the terrain', one with social spaces and the other with private rooms, joined to the center by a 'transparent and absent spatiality' that dissolves to articulate the entrance. 'The strategy involves confronting and reconciling artificial and natural data, believing in the affirmation and configuration of architecture, through a regulating and distributing patio for the program,' explains the Portugal-based studio.

HALF-BURIED PATIO CONNECTS RESIDENTS TO THE SURROUNDINGS
Dense and strongly anchored on the slope, Casa CM 'levitates' to create visual unity and continuity between the center of the void and the vegetation. Although it appears as a solid mass from an aerial point of view, the house features glazing throughout most of its spaces that provides different levels of transparency. outside, OODA has inserted a scenic swimming pool that reflects natural light, compensating for the half buried condition of the entrance patio. Meanwhile the building's sloping roof is accessible and able to serve uses that prolong the narrative of the house. 'The materiality adopted goes through the closings of the house and confirms this total and global dimension,' notes the studio. 'The architecture appears, as always, transformative but also capable of adding stability and quality to the place.'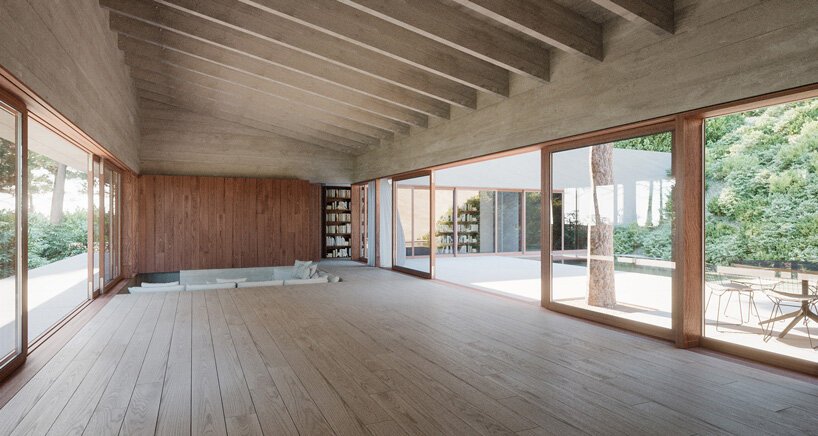 리스본 서쪽 오에이라스에 위치한 까사 씨엠은 오오아가 설계한 개인주택입니다. 주변 자연환경과의 조우를 첫번째로 원칙으로 경사지를 적극적으로 활용합니다. ㄷ자 형태의 건물과 경사지가 만나 형성된 중정은 내외부 확장된 거주환경을 거주자에게 제공합니다. 수평으로 열린 유연한 플랜 또한 연속된 장면을 연출합니다.

Name: Casa CM
Architect: OODA
Location: Oeiras, Portugal
Size: 350 sqm
Collaboration: TEKK, A3R, Fusão, P4
from designboom