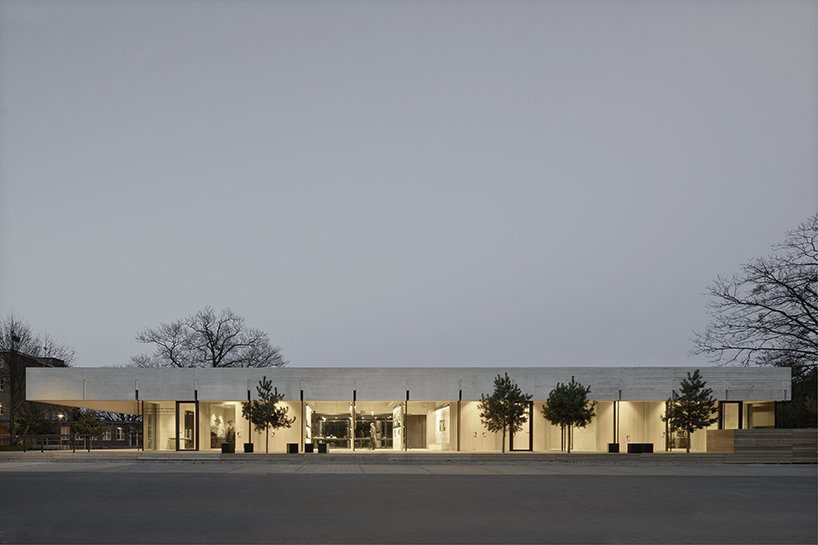 Steimle Architekten BDA-Visitor Centre UNESCO World Heritage Bauhaus Monument Trade Union School Bernau
투명성과 개방성을 강조한다. 거대한 캔틸레버 캐노피가 있는 넓은 리셉션 테라스는 파빌리온을 방문하는 모든이들에게 환영인사를 건넨다. 이렇게 유입된 방문객들은 오픈플랜으로 펼쳐진 내부 전시장 특별한 분위기를 경험하게 된다.
transparent pavilion welcomes visitors to UNESCO bauhaus monument in germany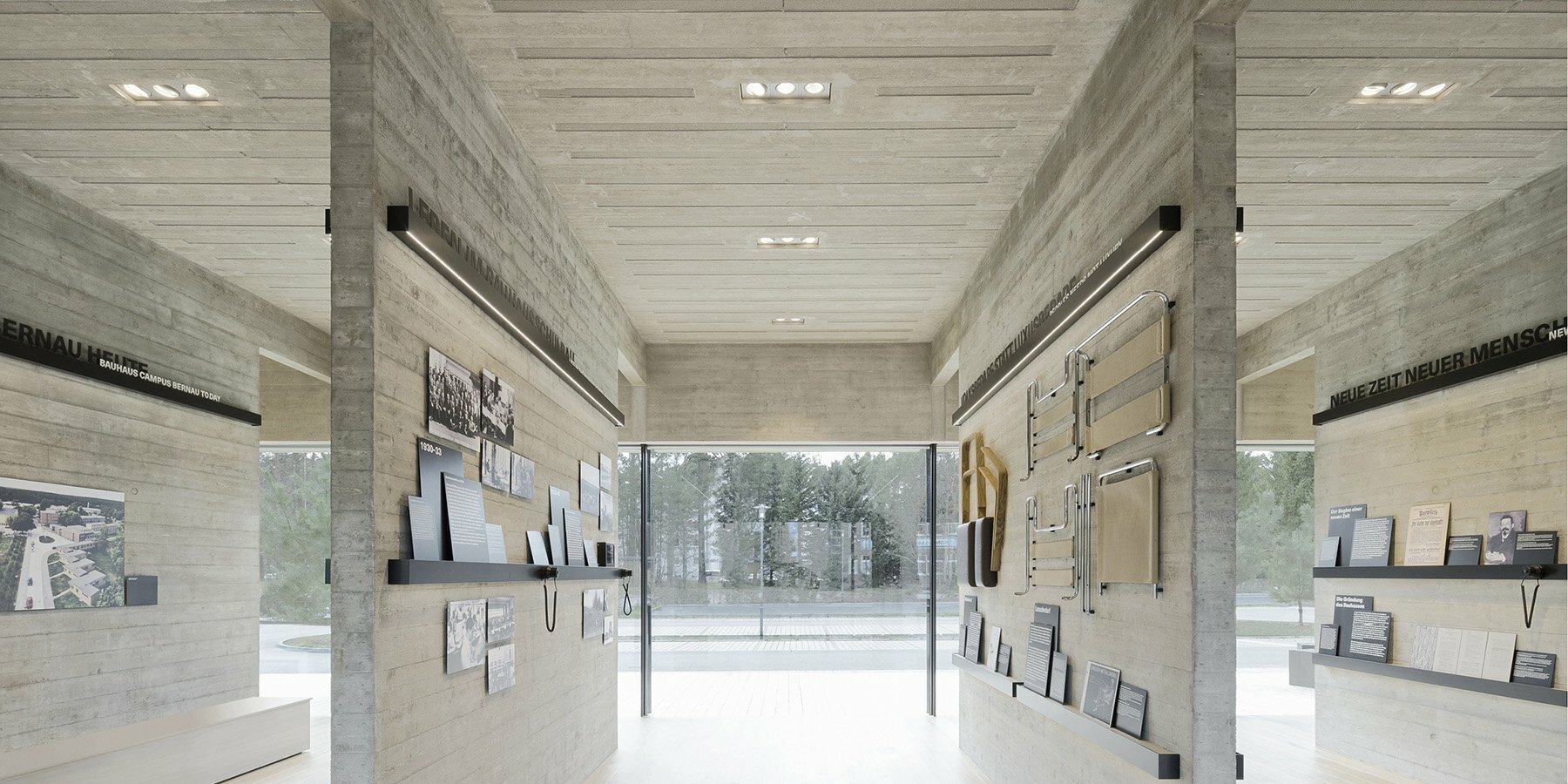 STEIMLE ARCHITEKTEN FORMS VISITOR CENTER FOR UNESCO BAUHAUS MONUMENT

Steimle Architekten BDA has designed a new visitor center for the Bauhaus Memorial Bernau, Germany. In summer 2017, the building ensemble designed by Bauhaus director Hannes Meyer and Hans Wittwer has been marked as a UNESCO World Heritage Site. Since then, more and more guests are finding their way there, which created the need for a new pavilion, introducing visitors to the theme of this remarkable place.

The design team sought to create a high quality urban architectural structure that carries its own character but simultaneously integrates into its surroundings. To achieve this, the architects added generous amounts of glazing and played with simple robust geometries. Thus, the transparent body is topped by a solid roof construction, that paradoxically seems to hover above the structure.

EMPHASIZING TRANSPARENCY AND OPENNESS
The town of Bernau launched a competition for the visitor center at the end of 2017. Steimle Architekten BDA (see more here) won the first prize, with their building marking the beginning of an appropriate World Heritage experience. The final building fits effortlessly into the Bauhaus Campus Bernau thanks to its generous transparency. Integrated into the pine forest scenery, the pavilion provides a first gaze at the architectural monument, guided by the long-stemmed pines of the forest.

'The visit is comprehended as a sequence of experiences in analogy to the effects that Hannes Meyer called 'psychological effects' and which are intended to emphasize the physically temporal dimension of architecture.'

The center is designed 'as a linear moment in the form of a simple stationary structure'. A spacious reception terrace with a massive cantilevered canopy welcomes visitors to the pavilion and invites them to enter. Subtly elevated, its interior takes shape as an open-flowing sequence of rooms with floor-to ceiling openings that offer sufficient space to experience the special atmosphere and to linger.
---
---
name: Visitor Centre UNESCO World Heritage Bauhaus Monument Trade Union School Bernau
designer: Steimle Architekten BDA
location: Bernau, Germany
from designboom